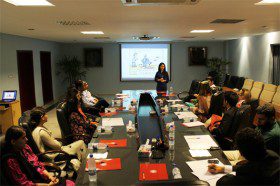 On Friday, 16 August 2013, Center for Law and Policy hosted a talk by Laila Kasuri, a recent graduate from Harvard College with a concentration in environmental sciences and engineering, titled "A Decision Support System for Flood Risk Reduction in the Indus Basin." The participants included Harvard alumni, law professors, and lawyers.
Ms. Kasuri explained Pakistan's water management problems during floods, which cause widespread devastation, and the opportunity Pakistan has to use the recent 2010 floods to have proper flood management regulations put in place. After describing the problems faced in Pakistan, Ms. Kasuri presented a case study on the Mississippi River, the largest river in the United States, and the U.S. government's response to the Great Mississippi Flood of 1927. Ms. Kasuri noted that certain tools used and techniques employed by the U.S. government after the flood were instrumental in providing a sustainable framework for effective flood disaster relief for the future. These measures can be applied to address Pakistan's water management problems with the Indus River.
Instead of employing reactionary stopgap responses to floods, long-term government legislation is needed in order to put effective water management methods in place, such as the U.S. government did after the 1927 flood with the Mississippi River and Tributaries Project (MRT). The use of hydraulic modeling technology, used by the U.S. Army Corps of Engineers, can help Pakistan determine the least value lands around the Indus, which could serve as the best areas for flood water diversion. Ms. Kasuri demonstrated this by creating three maps of a sample area in Southern Punjab and Northern Sindh. The first map indicates where valuable agricultural lands are situated around the river. The second map displays population density in the sample area, and the third map shows general land use by the population in the area. By making an aggregate map of the former three, the land best suited for floodwater diversion can be pinpointed. With a diversion channel, water can be directed to low lying, low value lands in Dera Bugti, backwater areas in North Jacobabad, and to a reservoir that can be created, potentially, in Sukkur.
Ultimately, policy makers will have to make decisions keeping in mind the rising population and monetary restraints, but the 2010 floods created an opportunity for them to readdress Pakistan's flood management issues. To start, a centralize flood plan should be created to address where diversion channels can be created to reach lands that can more properly deal with flood water. People who live in those areas should be informed of the flood risk they are exposed to and those who relocate should be properly compensated. Better land use and improved infrastructure, especially along the Indus, will also go a long way in helping Pakistan develop their water management and flood response regulations.
The talk was followed by a Q&A session. In the end, Syed Imad-ud-Din Asad [LL.M. (Harvard); Founder and Director, Center for Law and Policy] thanked Ms. Kasuri for sharing her views on this issue of national interest.
View more photos on the Center for Law and Policy's website.