The Future of Diplomacy Project, in partnership with SAI, will be hosting its annual South Asia Week, beginning Friday, April, 24, featuring an impressive array of regional practitioners and experts on India, Pakistan, and Afghanistan.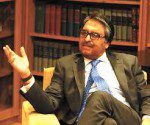 Friday, April 24, 2015 from 02:30pm – 04:00pm
Allison Dining Room, Taubman Building, 5th Floor, Harvard Kennedy School
Ambassador Jalil Jilani on US-Pakistan relations
In this first public event of the Future of Diplomacy Project's annual South Asia Week Ambassador Jalil Abbas Jilani discusses his country's relationship with the United States and regional powers in a talk moderated by South Asia Institute Director, Professor Tarun Khanna, Harvard Business School.
Ambassador Jilani assumed his responsibilities as Ambassador of Pakistan on January 2, 2014. Prior to his appointment as Ambassador of Pakistan to the United States, Ambassador Jilani served as Foreign Secretary of Pakistan from March 2012 to December 2013. He is a career diplomat and has also served as Ambassador of Pakistan to Belgium, Luxembourg and the European Union (2009-2012) and as Pakistan's High Commissioner to Canberra, Australia (2007-2009).
Ambassador Jilani holds a Bachelor's Degree in Law and M.Sc. in Defence and Strategic Studies. In his professional life, he has specialized in South Asian affairs and remained Director India (1992-1995), Deputy High Commissioner/Acting High Commissioner to New Delhi (1999-2003) and Director General South Asia and SAARC (2003-2007). In 2005 he also served as the Government's Spokesman on Foreign Affairs. From 1989 to 1992, Ambassador Jilani served as Deputy Secretary in the Prime Minister's Secretariat. His other overseas assignments included; Jeddah (1983-1985), London (1985-1988) and Washington (1995-1999).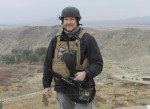 Monday, April 27, 2015 from 02:30pm – 04:00pm

Malkin Penthouse, Littauer Building 4th Floor
South Asia Week 2015: Afghanistan – Covering America's Longest War
Harvard Kennedy School Alumnus Sean Carberry, recently-returned Kabul Bureau Chief for NPR, discusses covering America's longest war with Anand Gopal, author of "No Good Men Among the Living: America, the Taliban and the War Through Afghan Eyes," in conversation with Future of Diplomacy Project Executive Director, Cathryn Cluver, in a seminar co-sponsored by the Shorenstein Center.
Sean Carberry was most recently NPR's international correspondent based in Kabul. His work was heard on all of NPR's award-winning programs, including Morning Edition, All Things Considered, and Weekend Edition. Prior to moving to Kabul, he was responsible for producing for NPR's foreign correspondents in the Middle East and "fill-in" reporting. Carberry traveled extensively across the Middle East to cover a range of stories such as the impact of electricity shortages on the economy in Afghanistan and the experiences of Syrian refugees in Turkish camps. Carberry has reported from more than two-dozen countries including Iraq, Syria, Yemen, Lebanon, Egypt, Libya, Morocco, Afghanistan, Pakistan, Congo, Sudan, South Sudan, and Iceland. In 2010, Carberry won the Gabriel Award Certificate of Merit for America Abroad's "The First Freedom," and in 2011 was awarded the Sigma Delta Chi Award as lead producer and correspondent for America Abroad's series, "The Arab World's Demographic Dilemma."
Before coming to NPR in 2011, Carberry worked at America Abroad Media where he served as technical director and senior producer in addition to traveling internationally to report and produce radio and multimedia content for America Abroad's monthly radio news documentaries and website.
Anand Gopal is the author of "No Good Men Among the Living: America, the Taliban, and the War through Afghan Eyes," which he wrote as a Schwartz Fellow at the New America Foundation. He studies the evolution of insurgencies and revolutionary movements in South Asia and the Middle East. Gopal has reported regularly from throughout the Middle East, where he has covered the revolutions in Egypt, Libya and Syria. From 2007-2010, he was an Afghanistan-based correspondent for the Christian Science Monitor and The Wall Street Journal.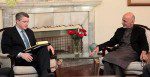 Monday, April 27, 2015 from 04:30pm – 06:00pm
Malkin Penthouse, Littauer Building 4th Floor, Harvard Kennedy School
South Asia Week 2015: A Moment of Opportunity for U.S. Engagement in Afghanistan and Pakistan
Ambassador Daniel Feldman, U.S. Special Representative for Afghanistan and Pakistan, discusses U.S. engagement in the region in a seminar co-sponsored by the India and South Asia Program and the South Asia Initiative at Harvard University.
Daniel F. Feldman is the Special Representative for Afghanistan and Pakistan (SRAP) with the personal rank of Ambassador. He has served in the S/SRAP office since its creation in 2009, first as deputy and then as principal deputy to Ambassadors Richard Holbrooke, Marc Grossman, and James Dobbins. Ambassador Feldman has been deeply engaged in all aspects of U.S. policy formulation and implementation for both countries, including overseeing political transition issues, economic growth initiatives, regional integration efforts, international engagement with key partners, strategic communications, and Congressional outreach. For his service in the S/SRAP office, he was awarded the Secretary's Distinguished Honor Award by Secretary Clinton.
Before reentering government, he was a law partner and co-chair of the international Corporate Social Responsibility group at Foley Hoag LLP, the only such legal practice in the U.S. His previous government experience includes serving as Director of Multilateral and Humanitarian Affairs at the National Security Council in the Clinton Administration, and as Counsel and Communications Adviser to the U.S. Senate Homeland Security and Governmental Affairs Committee.
Ambassador Feldman was Senior Foreign Policy and National Security Advisor to the Kerry presidential campaign in 2004, communications advisor and recount attorney for the Gore campaign in 2000, and a senior campaign advisor to Senator Mark Warner. He helped to found, and subsequently served on the board of, the National Security Network, and is a life member of the Council on Foreign Relations. He has been appointed a White House Fellow and a Henry Luce Scholar, and was a law clerk on the U.S. Court of Appeals for the Ninth Circuit and on the South African Supreme (Constitutional) Court. He is a graduate of Tufts University, Columbia Law School, and Princeton University's Woodrow Wilson School.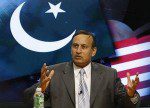 Thursday, April 30, 2015 from 08:30am – 10:00am
Allison Dining Room, Taubman Building, 5th Floor, Harvard Kennedy School
South Asia Week 2015: Ambassador Husain Haqqani – Pakistan and US: Dealing with Divergent Interests?
Ambassador Husain Haqqani examines the tenuous relationship between the U.S. and Pakistan in a seminar co-sponsored by the India and South Asia Program.
A Hudson Institute Senior Fellow and Director for South and Central Asia, Ambassador Husain Haqqani served as Pakistan's ambassador to the United States from 2008-2011 and is widely credited with managing a difficult partnership during a critical phase in the global war on terrorism. His distinguished career in government includes serving as an advisor to four Pakistani Prime ministers, Yusuf Raza Gilani, Benazir Bhutto, Nawaz Sharif and Ghulam Mustafa Jatoi. He also served as Pakistan's Ambassador to Sri Lanka in 1992-93.
Ambassador Haqqani's 2005 book "Pakistan Between Mosque and Military" has been praised in major international journals and newspapers as a path-breaking book on Pakistan's political history. The book received favorable reviews in Foreign Affairs, Wall Street Journal, Boston Globe, and academic journals and has sold more copies than any other academic book on Pakistan in the last decade.
Ambassador Haqqani is the Director of the Center of International Relations, and a Professor of the Practice of International Relations at Boston University. His specializations include: Diplomacy, Muslim Political Movements, International Journalism, Intercultural Relations, South Asia, Central Asia, South-East Asia, the Middle-East, and U.S.-Pakistan Relations.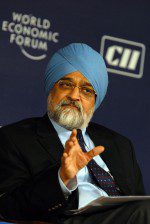 Friday, May 1, 2015 from 1:00pm – 02:30pm
CGIS South, S050, 1730 Cambridge Street, Cambridge, MA
Montek Singh Ahluwalia, Former Deputy Chairman of the Planning Commission of the Republic of India
Chair: Rohini Pande, Mohammed Kamal Professor of Public Policy, Harvard Kennedy School