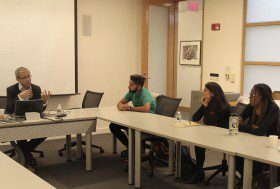 By Soujanya Ganig, Ed. M Candidate, Harvard Graduate School of Education; SAI Student Coordinator
On October 26, the South Asia Institute hosted Musharraf Ali Farooqi, author, translator and storyteller for a Muslim Societies in South Asia Seminar. In a discussion moderated by Professor Ali Asani, Professor of Indo-Muslim and Islamic Religion and Cultures, Faculty of Arts and Sciences; Director, Prince Alwaleed Bin Talal Islamic Studies Program, Harvard University, the masterful storyteller enthralled the audience with his fascinating stories and gave a flavour of all the dimensions of his work.
Farooqi's journey as a translator began with his translation of 'The Adventures of Amir Hamza,' a central text to the oral literary tradition of the Indian subcontinent, whose first major manifestation was in the form a 1,400 leaf illustrated manuscript in the court of Emperor Akbar. While reading and translating this text, Farooqi realized that there was much more in the realm of classical literature. After this initial engagement with classical literature, he realized that this should be explored and codified, and the first step towards this would be to 'reintroduce' these classical texts to the local audience.
Farooqi's initial days as a storyteller was at T2F (The Second Floor) in Karachi, Pakistan and these storytelling sessions slowly transformed into 'Ghalib made easy' sessions which continued for about two years, during which he published his first children's book Tik Tik, The Master of Time.  Captivating the audience with pictures of his storytelling session in schools, Farooqi said these storytelling sessions were very popular. He also made the case for how even people with minimal training can do storytelling and the only requirement to becoming a storyteller is to "know how to engage with the kids and not to take yourself seriously."
On the topic of folktales and literature for children, he spoke at length about negative projections about gender and relationships in these texts. Folktales are an integral part of literary history which cannot be wiped out. Farooqi showed the audience excerpts from his work where he had made additions to neutralize the negativity and violence in some of the folktales and showed how small alterations can make a big difference.
Farooqi also spoke about why he always did storytelling session in Urdu. "The way kids connect with stories or narration in their native language is not the same as they would in English." He also presented an interesting take on the power of books to elicit a sympathetic connection with the child and the inability of videogames to do so.
Another dimension to his work is his role with Alif Ailaan, a campaign that seeks to put education at the front and center of public discourse in Pakistan. The aim of the campaign is to send public representatives to schools in their constituencies so that they would interact with different stakeholders and learn about the delivery challenges in public education.  Farooqi has trained politicians on his basic mantra of memorize, connect, and improvise for effective storytelling.
Farooqi ended the discussion by stressing the need to excavate our literary consciousness, from which we have been disconnected for many years. We must reintroduce it into our lives and the lives of our kids: "We have a very superficial understanding of our culture but there is a much wider body of work which is still accessible, but will become more and more remote because we lose touch with that," he said. "This effort has to be undertaken, and I see an opportunity of a nexus between academia, educationists, and business who can invest in it now."