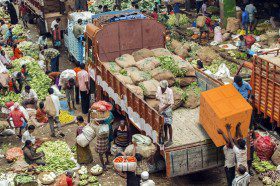 This is the last in a series of profiles on the student finalists in SAI's Seed For Change Competition. On May 6, finalists will pitch their ideas to a judging panel for the chance to with a $40,000 grant to implement their idea in India.
Friday, May 6, 3:15PM: Seed For Change Finalists Presentations
Soujanya Ganig, Ed. M Candidate at Harvard Graduate School of Education and SAI Student Coordinator, recently spoke with Francesco Wiedemann about gomango, which provides low-cost refrigerated transport to food producers in India.
SAI: Can you tell us the story behind how you first developed the idea of gomango?
Francesco Wiedemann: Naren [another GoMango team member] and I met in the Design Thinking class of Prof. Srikant Datar in the fall term 2015. We both had a background in engineering and were excited to work on something tangible and meaningful over the term – originally as a class project. Naren, due to his roots, knew about the extensive lack of cold supply in India first hand, and I, having a background in supply chain and logistics, was eager to apply my knowledge. So very quickly the idea of gomango was born: we wanted to help India transport its perishable goods affordably, efficiently, and sustainably.
Through our extensive interviews with experts and potential customers in India, and as a product of rapid prototyping, we soon realized that this idea had the potential to become more than a class project. So we actually started to go through further prototyping and writing a business plan for our startup: gomango.
SAI: How has your time at Harvard helped develop this idea?
FW: We received invaluable guidance and feedback from Prof. Srikant Datar throughout the term of the class last fall and he became one of our advisors.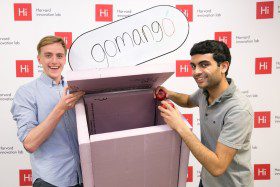 Also, as we got accepted in the Harvard Venture Incubation Program (Spring 2016) at the i-Lab, we tapped into a great pool of resources, such as experienced mentors, workshops about strategic partnerships, and access to the incredibly valuable entrepreneurial ecosystem of Harvard.
SAI: Tell us a little about your team members.
FW: Our team brings together experience in engineering and consulting, domain expertise in logistics and supply chain management, and strong personal ties to our target market, customers, and investors in India. Naren's technical expertise [B.S., Electrical Engineering & Physics (MIT); Ph.D. in Systems Biology (Harvard)] and prior work as a consultant to agribusiness has already helped us conduct customer interviews and pitch to partners in the US and India. My background [B.S. in Mechanical Engineering; M.S. in Management & Logistics (TU Munich & MIT)] and my prior work in logistics at various companies has helped us design our boxes, and it will be crucial as we set up an efficient rental network.
SAI: What have been some successes and challenges with this project so far?
FW: Last fall we started with the focus on a very innovative but not yet proven cooling technology to solve our customers' problem. In December we recognized that the real potential of our idea doesn't necessarily lay in the cooling technology. It rather lays in the combination of a box that is capable to keep goods cold on their trips from farm to market and a network of easily accessible and affordable boxes to enable a closed cold supply chain. So, we pivoted early to choose a proven technology and focus more on the combination of the two: a cool box and a smart network.
Regarding our successes: First, we have gotten a lot of positive responses from experts in India including soft commitments for pilot tests, which has encouraged us to work even harder on turning our idea into reality. Furthermore, in addition to getting into the Harvard Venture Incubation Program, we have been elected one of 10 finalists at the Harvard President's Challenge, and have gotten 1st place in the inaugural MIT Food and Agribusiness Innovation Prize.
SAI: How would winning the Seed For Change Competition help further your project?
FW: Winning the Seed For Change Competition will open new doors for us. We will then be able to tremendously accelerate our progress, i.e. going to India in order to build deep relationships with future customers and partners, and build and test a professional prototype in India within the next year. Doing a pilot test will enable us to showcase a proof of concept from the box perspective as well as from the rental/network perspective. This is going to be key in order to build trust in our technology and business model to finally successfully launch our solution.