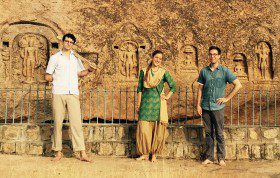 SAI offers a variety of learning opportunities in South Asia for Harvard students through its grants program. Undergraduate and graduate students are invited to apply for research grants to support independent research and thesis field work. SAI has partnered with over 50 organizations in South Asia to offer internships to Harvard students.
SAI has awarded grants for summer research, internship, and language study in Bangladesh, India, Myanmar, Nepal, Pakistan, and Sri Lanka during the summer.
Graduate Internship Grants
Yoko Okura, MPP, HKS 2017
Enhancing community capacity in resilience in the recovery process of Nepal
Graduate Language Study Grants
Lee Ling Ting, PhD, FAS 2021
AIIS Summer Language Program (Sanskrit)
Iris Yellum, PhD, FAS 2020
Tamil Language Study at American Institute of Indian Studies in Madurai, Tamil Nadu
Sonali Dhingra, PhD, FAS 2019
Funding for Odia (Oriya) Language Program at AIIS Summer Program 2016
Graduate Research Grants 
Rohit Chandra, PhD, FAS 2017
Adaptive State Capitalism: The Indian Coal Industry
Gregory Clines, PhD, FAS 2017
Fourth Braj Bhasha and Early Hindi Workshop: Trest, Czech Republic
Fletcher Coleman, PhD, GSAS 2019
Ascetic Aesthetics: The Brahman Ascetic in the Visual Lexicon of Early Buddhism
Hardeep Dhillon, PhD, GSAS
Traversing the Pacific Ocean: The Journeys of South Asians to the Americas
Joshua Ehrlich, PhD, GSAS 2016
The East India Company and the Politics of Knowledge, 1772-1835
Shireen Hamza, PhD, GSAS 2021
Arabic Medical Manuscripts at Khuda Baksh and Raza Libraries
Justin Henceroth, Master in Design Studies, Risk Resilience, 2017
Innovation in Disasters: Building Local-Level Resilience through the Implementation of Remote Monitoring
Neelam Khoja, PhD, GSAS 2018
The Politics of Power in 18th century Punjab: Space, Culture, and Identity
Muhammad Liaqat, PhD, FAS 2020
When do Citizens Expect Better Service from the Government?
Sophie Maguire, Master Landscape Architecture I, GSD 2017
Hidden Landscapes: Visualizing the Functional Presence of Indias Stepwells
Aaron Mendonca, Master in Design Studies, Energy & Environments, GSD 2017
Forest Practice in India
Maung Nyeu, EdD, HGSE 2017
Vocabulary Development through Discussion and Debate for Cultural and Linguistic Minority Students
Haibei Peng, Master in Architecture I, GSD 2017
The Nested Scale of Time: to protect and display biodiversity in South Asia through research on agriculture and seed bank
Priyasha Saksena, SJD, HLS 2020
Jousting Over Jurisdiction: Sovereignty and International Law in Colonial South Asia, c. 1858-1947
Justin Stern, PhD, GSAS 2018
A Geography of the Toll-Free: Business Process Outsourcing and Urban Transformation in India and the Philippines
David Zielnicki, Master of Landscape Architecture I, GSD 2017
Hidden Landscapes: Visualizing the Functional Presence of Indias Stepwells
Undergraduate Internship Grants
Divya Arya
India Research Center Internship
Layla Kousari 
Jana Care Internship
Angela Leocata
Sangath Internship to Research Community-based Intervention for Maternal Depression
Shreya Mathur
Adharshila Internship in Healthcare
Harvard College '17
Jana Care Summer Technical Internship
Undergraduate Language Study Grants
Ajay Singh
American Institute of Indian Studies –  Punjabi program in Chandigarh
Undergraduate Research Grants
Jasmine Chia
Thesis research in Myanmar
Katherine Hoffman
The Politics of Contemporary Women's Rights in Myanmar: The Paradoxical Case of Aung San Suu Kyi
Marisa Houlahan
Shipbreaking Lives and Labor in Chittagong, Bangladesh
Sarani Jayawardena
Examines why multi-ethnic states (Sri Lanka/Singapore) narrate identities differently in curriculum
Shahrukh Khan 
Language Ideology and Education in Pakistan
Madhavi Narayanan
Senior thesis on Tamil war widows' access to transitional justice in Sri Lanka post-2015 election
Shaiba Rather
Senior thesis research on beef bans in India