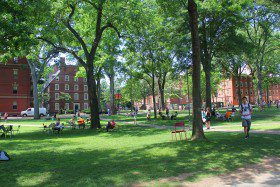 Harvard University will offer many courses with South Asia related content in the Spring 2017 semester. (Please note: This is only a partial list. Please visit each school's individual registrar for a full list of courses.)
Do you know of a course that should be listed here? Email Meghan Smith, meghansmith@fas.harvard.edu.
Jump to:
Department of South Asian Studies
Departments in the Faculty of Arts and Sciences
Harvard Graduate School of Education
Religion in India: Texts and Traditions in a Complex Society
CULTBLF 60
Diana Eck
An exploration of the classical texts, spiritual teachings, epic narratives, and religious movements that have shaped a complex civilization for some three thousand years, from the Indus Valley to today. Readings in primary sources – Vedas and Upanishads, Buddhist and Jain teachings, the Mahabharata and the Bhagavad Gita, Bhakti and Sufi poets, Sikh gurus and Muslim kings. Attention to the creation of a rich and composite civilization and the ways in which these sources continue to be of significance to the understanding of modern India.
Offered jointly with the Divinity School as 3429.
MW   11:00 a.m. – 11:59 a.m.
Asian Diasporas
SOCWORLD 37
Michael Szonyi and Sunil Amrith
The movement of people from China and India around the world are among the great migrations of history.  This class explores Chinese and Indian emigration past and present, examining similarities and distinctions between (and among) these two great migrations. We focus on the connections between communities overseas, their encounters with each other and with other diasporas. The fundamental questions this class considers are: how have migrants from India and China shaped the modern world? How do their journeys relate to other migrations? These are questions that should be of interest not only to people of Asian descent, but to everyone.
TuTh   10:00 a.m. – 10:59 a.m.
Understanding Islam and Contemporary Muslim Societies
CULTBLF 19
Ali S. Asani
The course is an introduction to the fundamental concepts of Islam and the role that religious ideas and institutions play in Muslim communities around the world. Its main concern is to develop an understanding of the manner in which diverse notions of religious and political authority have influenced Muslim societies politically, socially and culturally. Through specific case studies of countries such as Saudi Arabia, Iran, Turkey, Egypt, Pakistan, and Afghanistan, the course considers the role played by ideologies such as jihad, colonialism, nationalism, secularism, and globalization in shaping the ways in which Muslims interpret and practice their faith today. The course briefly considers the contemporary situation of Muslim minorities in Europe and the United States.
Offered jointly with the Divinity School as 3628.
TuTh   12:00 p.m. – 12:59 p.m.

Department of South Asian Studies
Introductory Hindi-Urdu
HIND-URD 101B
Richard Delacy
An Introduction to the modern standard form of the most widely spoken language in South Asia, Hindi-Urdu. Students are introduced to both writing systems: the Devanagari script of Hindi and the Nastaliq script of Urdu. The basic grammatical structures are presented and reinforced, and students are also exposed to the cultural and historical context in which Hindi-Urdu has existed over several centuries. The course also draws from the modern medium of film, in particular recent Bollywood songs, to reinforce structures and vocabulary. Students must complete both terms of this course (parts A and B) within the same academic year in order to receive credit.
MTuWTh   3:00 p.m. – 3:59 p.m.
Topics in Hindi-Urdu Literature
HIND-URD 105R
Ali S. Asani
Individual reading course. A course for students with native or near-native proficiency with readings in a variety of genres from Hindi and/or Urdu literature based on student interest.
Introductory Nepali
NEP 101B
Michael Witzel
Continuation of Nepali 101a.
Readings in Modern Nepali Literature
NEP 104B
Michael Witzel
A reading course in Modern Nepali Literature, suitable for students who have at least three years of Nepali learning. This course is designed to help students understand some of the complex literary materials composed in modern Nepali language. The students will have an opportunity to read a wide variety of selected texts, understand the linguistic systems operative in those writings, and come up with their own informed understanding of them.
Elementary Sanskrit
SANSKRIT 101B
Gokul Madhavan
Continuation of Sanskrit 101a.
MWF   12:00 p.m. – 12:59 p.m.
Advanced Philosophical Sanskrit
SANSKRIT 201BR
Gokul Madhavan
MW   2:30 p.m. – 3:59 p.m.
Introduction to Vedic Sanskrit and Literature
SANSKRIT 204BR
Michael Witzel
Continuation of Sanskrit 204AR
Th   10:00 a.m. – 11:29 a.m.
Readings from the Rgveda II
SANSKRIT 205BR
Michael Witzel
Readings and discussions of the oldest Indian text.
Th 2:00pm – 3:59pm
South Asian Language Tutorials
Parimal G. Patil
SAS 100R
Individualized study of a South Asian language; emphasis on written expression, reading comprehension and oral fluency. Languages currently offered are Bahasa Indonesia, Bengali, and Burmese though others may be approved upon petition to the Director of Undergraduate Studies/Director of Graduate Studies.
Time, History, and Narrative in Modern South Asia
SAS 177
Catherine Warner
Tu  1:00 p.m. – 2:59 p.m.
South Asia Workshop
SAS 300BR
Sunil Amrith, Parimal G. Patil and Shankar Ramaswami
With SAS 300AR, a year-long course for graduate students in South Asian studies from any discipline. During the year, we will read recent work in the field of South Asian Studies, broadly construed; have seminars with the authors of these works; and discuss the work of faculty and students in the seminar.
Capitalism and Cosmology in Modern India
SAS 196
Shankar Ramaswami
This course will seek to understand unfolding processes of development in contemporary India through explorations of the lives, politics, and cosmologies of poor and working people.  The course will examine debates on growth, development, and ecology; experiences of migration, work, slums, and cities (Delhi and Mumbai); and the ethical ideals, political activities, and cosmological visions of working people.  The course will draw on a range of sources, including ethnographies, economics, religious studies, narrative nonfiction, novels, Hindi cinema, and documentaries.
M   3:00 p.m. – 4:59 p.m.
Elementary Tamil
TAM 101B
Jonathan Ripley
Continuation of Tamil 101a.
Elementary Classical Tibetan
TIBET 101B
Leonard W. J. van der Kuijp
Continuation of Tibetan 101a
TuTh   10:00 a.m. – 11:29 a.m.
Tibetan Funerary Rituals
TIBET 154R
Leonard W. J. van der Kuijp
Apropos of Tibetan Buddhist funerary rituals in light of the polemic exchanges that centered on competing interpretations of the Sarvadurgatipari odhanatantra.

Departments in the Faculty of Arts and Sciences
Comparing India and China: An Examination of State-Society Relations
GOV 94CI
Nara Dillon
In the late 1940s, India witnessed a peaceful transition to democracy, while China experienced a Communist revolution. After this divergence, both countries began pursuing market reforms in the effort to accelerate economic growth in the 1980s and 1990s. We will explore the ways in which power has been consolidated and distributed under these very different regimes and the implications this has had for a range of socio-political and economic outcomes, including famine, economic development, and urbanization. Throughout the course we will place India and China in the context of comparative debates about other parts of the developing world.
Tu   1:00 p.m. – 2:59 p.m.
Landmarks of World Architecture
HAA 11
Joseph Connors
Examines major works of world architecture and the unique aesthetic, cultural, and historical issues that frame them. Faculty members will each lecture on an outstanding example in their area of expertise, drawing from various periods and such diverse cultures as modern and contemporary Europe and America, early modern Japan, Mughal India, Renaissance and medieval Europe, and ancient Rome. Sections will develop thematically and focus on significant issues in the analysis and interpretation of architecture.
TuTh   1:00 p.m. – 1:59 p.m.
Introduction to Social Movements
SOCIOL 27
Jocelyn Viterna
Social movements and revolution have long been driving forces behind political, social, and cultural change. From the Civil Rights movement of the 60s to the recent and unpredicted "Arab Spring," the extraordinary mobilization of ordinary people is routinely credited with fundamentally re-shaping societal institutions–the polity, the economy, religion, gender, race, and even the environment. But can we really define and study something as ephemeral as social mobilization? Do we know how social movements begin? Why might they become revolutionary? Can they make a difference in the societies they target? This course examines these questions within the sociological literature on collective action. Theories of social movements and revolutions are then applied to a series of case studies around the globe. Case studies may include the US, Iran, China, El Salvador, Chile, India, Poland, Argentina, Egypt, and Nigeria, among others. Students will also be required to apply course readings to the collective action case of their choosing throughout the semester.
This course, when taken for a letter grade, meets the General Education requirement for United States in the World.
MW   1:00 p.m. – 1:59 p.m.
Himalayan Art
HAA 183K
Jinah Kim
Understood as a divine abode in Indic mythology and envisioned as the immortal realm of "Shangri-la" by later western interpreters, the Himalayas abound with Hindu and Buddhist holy sites. This course explores the vibrant visual culture of the Himalayan region. Two learning goals are: 1) Understanding the historical development of distinctive artistic forms in paintings and sculptures of Nepal and Tibet during major moments of artistic innovations in the region, including the artistic responses to the current political situation; 2) Locating this knowledge in the context of the history of reception and collecting of Himalayan art in the west.
M 1:00pm – 2:59pm
Disability and World Literature
COMPLIT 130
Roanne Kantor
Although people with disabilities are among the most marginalized around the world, disability is becoming an ever more visible metaphor in contemporary narratives. Rather than portraying disability as an inborn condition, these narratives often highlight the way social oppression disrupts physical and social mobility. In these stories, environmental degradation, state violence, gender, caste, religious, and racial discrimination, and grinding poverty are somehow involved in producing characters? physical disabilities. This emphasis on the social construction of disability status parallels the construction of other kinds of marginalization. Yet the question remains: do these narratives actually bear witness to the experience of living with disability around the world, or do they further obscure that experience by using disability as a convenient metaphor for other things? In this course, we will explore a variety of literary and filmic narratives about disability in Latin America, Asia, Africa and the Middle East.
M   2:00 p.m. – 3:59 p.m.
The Silk Road: Recentering World History from Alexander the Great to Osama bin Laden
HIST 1119
Gregory Afinogenov
This lecture course explores the pivotal world-historical role of the Silk Road that linked China to Central Asia, Persia, the Mediterranean, and Europe. From Greco-Buddhists to Christian Mongols and Chinese Muslims, this region has for thousands of years hosted an unparalleled diversity of cultures. It has also played a decisive role in the Islamic Golden Age, the Mongol conquests, and the nineteenth-century Great Game between Russia and Great Britain. The course will cover all aspects of the region's history from 400 BCE to the present, focusing on the ways it has shaped and continues to shape our world.
MWF   1:00 p.m. – 1:59 p.m.
Migration in South Asia, 1500-2000
HIST 13Q
Catherine Warner
How has migration shaped South Asia as a region across time? What distinguishes contemporary movements of people from pre-colonial circulation? How have ordinary people used mobility to negotiate colonial and post-colonial power structures? Beginning with the early modern period, this course will examine how migration has informed the cultures, politics, and social life of the subcontinent. Topics will include forced and voluntary migration, imperial circuits and labor, national border regimes, gender, information networks, diaspora, urbanization, and globalization. Students will investigate methods and theories of historical migration studies in order to shape their own research projects.
Th   11:00 a.m. – 12:59 p.m.
Asian Environments (Graduate Seminar in General Education)
HIST 2615
Sunil Amrith, Arunabh Ghosh and Ian J. Miller
This course will use the history of Asia, the world?s most populous and economically dynamic region, to illuminate the most urgent environmental issues of our time. We will build a curriculum based on crucial episodes and sites in Asia?s environmental past: moments of political and moral crisis or choice; places and encounters that continue to shape our present and future. Note: The seminar will design and develop a General Education course on these themes for undergraduates. A key aim of the graduate seminar will be to identify and develop a series of virtual site visits? that will allow undergraduate students to engage, intellectually and imaginatively, with Asia's environmental history. Students from all areas and disciplines welcome.
W 2:00pm – 3:59pm
Health, Science, and Development in the Twentieth Century
HISTSCI 268
Gabriela Soto Laveaga
In this graduate seminar we examine how the rhetoric of science was used to `solve? problems in Africa, Latin America, and South Asia in the twentieth century. From civil engineering wonders, like the Panama Canal, to agricultural solutions, like the Green Revolution, we will discuss the unexpected consequences of foreign models in colonial and postcolonial spaces. Examining cases such as uranium extraction in African nations or glaciology in Peru can help us understand the socio-political consequences of science-on-ground when countries become laboratories for foreign-led aid.
M   2:00 p.m. – 3:59 p.m.
Approaches to Studying Indo-Muslim Culture and South Asian Islam
ISLAMCIV 241R
Ali S. Asani
A seminar for graduate students focusing on current scholarship on Islamic civilization in South Asia.
The Politics of the Environment in Asia
SOC-STD 98OK
Kevin Caffrey
Scholars have noted the connection between environment and specific forms of Asian politics and society. Today China reengineers the flow of its rivers to address social demands for water. South & Southeast Asian polities realize how politics beyond their borders can determine the flow of the region's rivers–and thus the health of their societies. The dangers of poor air quality, polluted land, and contaminated food energize social movements and unrest.  Asian development models have resulted in extreme pollution, and with resulting public health problems, governmental attention to the environment has increased. In this research seminar students will explore "politics and environment" in Asia, with some attention being given to the future.
W 1:00pm – 2:59pm
The Cell Biology of Human Life in the World
MCB 64
Robert Lue
This course teaches fundamental concepts in cell biology in the context of individual life histories drawn from different parts of the world. Each life case focuses on key aspects of human development, growth, aging and disease while providing a nuanced view of the interplay between the life sciences, geography and culture. For example, a comparative discussion of aging in the United States and Japan is used to explore diet, cellular metabolism and its relationship to protein damage and turnover, while the Human Immunodeficiency Virus and AIDS in South Asia is used to explore mucosal immunity and the basis for estimating relative infection risk. Each case delves into the cell biology of major biological events across the life history of the human.
MW   1:00 p.m. – 2:29 p.m.
Back to top of page

Harvard Divinity School
Indian and Tibetan Yogachara: Buddhist Idealism, Phenomenology and Philosophy of Mind
HDS 3544
Jay Garfield
This course will introduce students to Yogachara thought as it developed in India and as it was understood in Tibetan commentarial and philosophical literature. The Yogachara school is often described as Buddhist idealism. More recent scholarly reassessment has also seen important strands of phenomenological investigation in Yogachara The Yogachara literature is large and complex, and probably includes texts that fit on both sides of this divide. YogA cA ra philosophers also contribute to the philosophy of mind, epistemology and the philosophy of language, and much if this work is independent of questions about idealism.  Our goal will be to limn the contours of this school and to ask what insights are relevant to contemporary philosophical problems on the one hand, and to Buddhist philosophy more broadly on the other. We will read texts by and about Vasubandhu, Asaaga, SthiramA ti and DignA ga in India, as well as Tibetan texts that take up these themes. All texts will be taught in English translation, but for students interested in reading in Tiebtan, we can set up separate sessions. Prerequisites: Prior course in Buddhism or Philosophy required.
Jointly offered in the Faculty of Arts and Sciences as Religion 2720.
M 1:00pm – 3:29pm
Religion in India: Texts and Traditions
HDS 3429
Diana Eck
An exploration of the classical texts, spiritual teachings, epic narratives, and religious movements that have shaped a complex civilization for some three thousand years, from the Indus Valley to today. Readings in primary sources – Vedas and Upanishads, Buddhist and Jain teachings, the Mahabharata and the Bhagavad Gita, Bhakti and Sufi poets, Sikh gurus and Muslim kings. Attention to the creation of a rich and composite civilization and the ways in which these sources continue to be of significance to the understanding of modern India.
Jointly offered as Culture and Belief 60.
MW 11:00am – 11:59am
Understanding Islam and Contemporary Muslim Societies
HDS 3628
Ali S. Asani
The course is an introduction to the fundamental concepts of Islam and the role that religious ideas and institutions play in Muslim communities around the world. Its main concern is to develop an understanding of the manner in which diverse notions of religious and political authority have influenced Muslim societies politically, socially and culturally. Through specific case studies of countries such as Saudi Arabia, Iran, Turkey, Egypt, Pakistan, and Afghanistan, the course considers the role played by ideologies such as jihad, colonialism, nationalism, secularism, and globalization in shaping the ways in which Muslims interpret and practice their faith today. The course briefly considers the contemporary situation of Muslim minorities in Europe and the United States.
Jointly offered as Culture and Belief 19.
TuTh   12:00 p.m. – 12:59 p.m.
Ismaili History and Thought
HDS 3939
Ali S. Asani
This course explores the doctrines and practices of the Ismailis, adherents of a minority branch of Shia Islam that recognizes the continuation of religious authority after the Prophet Muhammad through a particular line of his descendants known as the Imams. Focusing on their historical evolution and manifestations in diverse political, cultural and social contexts, the course will consider three major communities: the Nizari Ismailis (in Syria, Iran, Central Asia, and South Asia); the Tayyibi (Daudi Bohra) Ismailis (in Yemen and South Asia) and the Druze (in Syria and Lebanon). Principal themes to be considered include conceptions of the Imamah and notions of authority, messianic doctrines, philosophy, ritual practice and devotional traditions. The course will also briefly consider the contemporary situation of these communities as minorities in North America and Europe. Prerequisite: Introductory course on Islam or permission of instructor.
Jointly offered as Religion 1816.
W   12:00 p.m. – 1:59 p.m.
Urban Shock
HDS 2124
Steven Jungkeit
According to some estimates, one half of the world's population now lives in an urban setting.  While some North American cities have undergone massive decline, urban zones in Asia, South America and Africa have seen explosive and unprecedented growth.  This seminar is an exploration of the ethical and social issues that have arisen as a result of that decline and growth.  In particular, we shall concentrate our attention on the movements, performances, choreographies, and disciplines of human bodies, both individually and collectively, as they navigate those various urban environments.  Seminar sessions shall be devoted to a number of urban sites, noting the bodily performances or rituals called forth within those sites.  Among those sites are consumer spaces, industrial zones, impoverished streetscapes, theatrical and utopian spaces, ritual or sacred spaces, and finally the body itself as a kind of construction site.  Particular attention will be given to Paris, New Orleans, and other urban zones around the globe.  Readings will draw from Marxist and Frankfurt School theorists, as well as queer, posthuman, and religious studies texts.  In addition, different forms of expression and creativity such as music, films, novels, and performance art shall be considered throughout the course as we account for the complex ways urban systems work on bodies.
M   2:00 p.m. – 3:59 p.m.
Back to top of page
International Trade Law
Mark Wu
This course focuses on the law governing international trade as established by the World Trade Organization. It engages in an in-depth analysis of WTO rules and case law. The class will examine the strengths and weaknesses of the existing regime and discuss the difficulties in reforming the system. Besides focusing on the basic principles governing trade in goods and services, the course will also examine specialized areas such as technical standards, agriculture, food safety, subsidies, trade remedy measures, and intellectual property. In addition, the course will focus on the geopolitcal tensions between major trading powers, particularly with respect to the US, EU, and the emerging powers (China, India, Brazil). Finally, depending on political developments, the course will engage with new trade rules as shaped in mega-regional agreements such as the Trans-Pacific Partnership.
MTu   1:00 p.m. – 3:00 p.m.
Contemporary Critical Legal Thought: Perspectives From the Periphery
Helena Alviar
Critical thinking in law has a vibrant tradition in the Global South. From the antiformalist impulse of the early 20th century to more recent post-colonial insights, legal scholars have long grappled with the distributive dimensions of law. This seminar will have as its main goal to explore the work of academics writing about both the limitations and emancipatory possibilities of law. Readings will include the work of authors who have influenced critical thinking as well as a few examples of contemporary intellectual production by legal scholars from Latin America, Africa and Asia.
W 3:00pm – 5:00pm
Animal Law
Kristen Stilt
This course will introduce students to the broad range of laws that affect non-human animals ("animals"), including companion animals, farm animals (with a particular focus on factory farms), animals used in the context of entertainment (such as zoos and aquaria), animals used in scientific experimentation, and wild animals. The course will focus mainly on the U.S. but will also include significant attention to the laws of other countries and to international law. The course will also engage with fundamental questions about animals and the law, such as: Are some animals more deserving of protection than others, and if so, on what basis? What role does culture and belief play in animal law—why are dogs considered pets in the U.S. and food in some parts of the world, for example? Does the status of animals as property pose an insurmountable barrier to increasing protections for animals? What are the advantages and disadvantages of the concepts of "animal rights" and "animal welfare"?
M, T 1:30pm – 3:00pm
Comparative Constitutional Law
Vicki Jackson
The course will cover a series of topics arising in the comparative study of constitutional systems. Concentrating on constitutional structure and law in the United States and in such other countries as Australia, Canada, Colombia, France, Germany, Great Britain, India, Israel, Japan, and South Africa, it will examine selected problems of both constitutional design and constitutional adjudication. Early in the course we will consider the varying foundations and structures of judicial review of the constitutionality of laws (e.g., how are courts that engage in constitutional review structured, how are their judges appointed, what is the source of their authority to engage in constitutional review). We will also, early in the course, likely consider the constitutional law regulating availability of abortion in the United States, Germany, Canada, Colombia, and Ireland.
T, W 5:00pm – 7:00pm
Back to top of page

Graduate School of Design
Discourses and Methods: Conservation, Destruction, and Curating Impermanence
HIS 4475
This seminar on critical conservation aims to develop concepts, and strategies able to describe and curate the transitory and dynamic nature of architecture, landscapes and cities. It combines readings discussions on the philosophy of history and conservation with lectures on case studies in which the premises of permanence and stable meaning the assumptions upon which the traditional conservation discipline operates become material or theoretical impossibilities. The first part of the course seeks to establish general theoretical parameters for a new conceptualization and experience of history and memory that will be illustrated through examples of the work of architects such as David Chipperfield, Aldo Rossi, and Mies Van der Rohe. The second part of the course focuses on natural and manmade destructions in order to reflect upon the myth of permanence; this includes the reassessment of remnants from natural catastrophes in Chile, or from warlike conflicts in the Middle East. The third section addresses urban dynamics such as radical urban proposals of ephemeral settlements in India, or the transformations prospects of Old Havana in Cuba among others.
F   10:00 a.m. – 12:59 p.m.
Type, City, Ecology: Hydro-types and Knowledge Environments for a New Township in India
STU 1504
Christopher Lee
The Harvard GSD project on Palava City is a two-year sponsored research and design project focused on the challenges posed by the construction of a new township in the outskirts of Mumbai. Palava City, a 336 Ha new town built form tabula rasa, will house a lived-in population of 483,000 by 2025. Like any developmental city aligned with the global economy, Palava City?s positioning and spatialization strategies are both tied locally to its proximity to Mumbai, and globally to other cities like Songdo and Masdar. Our design task is to conceive an accommodative and pliant urban plan articulated by a typological framework. This will include the design of a research environment, anchored by a university and associated incubator space in Palava Citys Phase 2 masterplan. We will draw lessons from Mumbai's cultural and social history and its incremental, additive and accommodative urbanity. Open to students of Architecture, Urban Design and LandscapeThe studio will tentatively travel to Mumbai, Chandigarh and Ahmedabad in February 2017. The historical and theoretical underpinnings of this studio will be offered by Course DES-03352: Type and the Idea of the City. The outcome of the option studio will potentially be subject to a publication.
ThF   2:00 p.m. – 5:59 p.m.
Back to top of page

Harvard Graduate School of Education
The Politics of Education in the Developing World
Emmerich Davies Escobar
EDU A826
Have globalization and market-oriented reforms constrained or empowered domestic government efforts to provide broad-based education?  How should developing country governments engage the private sector in the provision of education?  What is the effect of political and administrative decentralization on parental participation and educational outcomes?  This course will explore these and other questions as we try to understand the role that political institutions, elected leaders, civil society, and bureaucrats play in the provision of education across the developing world.  We will ask who the key actors, interests, and incentives are in education politics through individual case studies across various countries in Latin America, sub-Saharan Africa, and South and East Asia.  By the end of the course we will have learned to identify the incentives of actors, their options, and how to best engage them in education policy making.  The class will use a series of case studies, policy evaluations, and theoretical readings to explore these questions in the context of the politics of the developing world.  The emphasis will be on real world examples and policies, and we will leave with a broader understanding of the incentives and constraints political actors face in the developing world.
Tu   4:00 p.m. – 6:59 p.m.

Harvard Kennedy School
Management, Finance, and Regulation of Public Infrastructure in Developing Countries
PED 209
Henry Lee
This course explores efforts to manage, finance, and regulate the transportation, telecommunication, water, sanitation, and energy infrastructure systems in developing countries. Issues to be discussed include public-private partnerships, the fundamentals of project finance, contract and discretionary regulation, and managing the political context in which infrastructure decisions are made. The course will rely on case material taken from infrastructure programs in developing countries, including Brazil, Mexico, Thailand, Laos, Argentina, Chile, Lesotho, Uganda, Madagascar, and India, as well assome developed countries, including the United Kingdom, Canada, and Australia.
TuTh   2:45 p.m. – 4:00 p.m.
Decision Making in Recent Crises
IGA 224
Meghan O'Sullivan
This course uses some of the greatest contemporary challenges in American foreign policy to explore the broader issue of how and why important foreign policy decisions are made. Employing a decision making framework developed in class, students will examine more than a dozen specific, historic decisions made in regard to Iraq, Afghanistan, and Pakistan over the past twelve years. This format allows students not only to gain knowledge about the recent past, but also to gain insight – through positive and negative examples – into how policymakers can make the best decisions in the face of imperfect information and various constraints. The course enables students to extract lessons from recent experiences which are relevant for current and future interventions and nation-building efforts by the United States or other powers. Students will emerge from the course not only with substantive knowledge about Iraq, Afghanistan, and Pakistan, but equipped with analytical tools to understand and evaluate foreign policy decision making more generally.To see a short VIDEO describing this course, please follow this link: http://www.youtube.com/watch?v=3c9zj9FEdQg.

Harvard Extension School
The Economics of Emerging Markets: Asia and Eastern Europe
ECON E-1317
Bruno S. Sergi
This course covers, with a focus on both theory and empirics, the growth and development of the emerging economies in Asia and Eastern Europe the front-runners of the global economy. The world is attracted to their promise of booming markets, massive potential for local consumer markets, abundant low-cost labor, and rising middle class. These make emerging economies key players in international trade and business, although upon closer examination we find the landscape is fraught with an ongoing slowdown across the world's major emerging markets and complex economic and financial systemic risks. Special emphasis is put on the emerging markets' economics, finance, banking, and their economic relations with the rest of the world, as well as the causal factors and limits of economic policy in the entire post-Soviet region, Eurasia, China, India, and Southeast Asia.
Water, Health, and Sustainable Development
ENVR E-171
Joseph Michael Hunt
According to Fortune, water promises to be to the twenty-first century what oil was to the twentieth century: the precious commodity that determines the wealth of nations. And the health of nations as well. This course introduces students to environmental assessment methods of water projects and programs, including health impact assessment, that contribute significantly to health protection and environmental sustainability. The course takes three approaches to the water question. The first, a new sustainable development goal (2015-2030), targets water supply and sanitation (WSS) for all. Lectures identify causes of slow progress in the least developed countries and examine how the lives of 2,000 children lost unnecessarily every day to enteric diseases could be saved. We analyze three contributing risk factors (access to WSS, girls' education and life expectancy, and food security including dietary quality). Case studies are drawn from South Asia and sub-Saharan Africa. The second approach studies women, watersheds, and the welfare of children, and looks at climate change, persistent drought, and the reclamation of river basins for meeting human needs.