This is part a series of organizations in India who received a Social Innovation grant through the SAI/Tata Trusts project on Livelihood Creation.
ORGANIZATION DETAILS
Organisation Name: Kumaun Grameen Udyog (KGU)
Registered As: Section 8 company
Year Founded: 1996
Locations: Nainital District, Uttarakhand
Email: info@kgu.org.in, sarika@kgu.org.in
Contact Number: +91-7535977771
Website: http://www.kilmora.in/
LEADERSHIP
Sarika Samdani, Managing Director
VISION, MISSION AND BROAD OBJECTIVES
Vision
Kumaun Grameen Udyog's vision is to create an efficient rural enterprise – based on the principles of equity, quality and collective action – that will provide sustainable livelihood opportunities to artisans and small farmers in rural Kumaun and provide consumers with quality products.
Mission
Kumaun Grameen Udyog seeks to provide artisans and small farmers with sustainable employment opportunities and to reinvest its surplus to support health care and education in the region.
Broad Objectives
To promote socio-economic welfare and upliftment of people in rural areas so as to raise their standard of living, enhance quality of life, extend life choices, awareness, abilities and skills of people.
To undertake promotion of rural products through product development, skill training, supporting production, and building market linkages.
ACTIVITIES AND MODEL OF EXECUTION
Kumaun is a mountainous region in the state of Uttarakhand. To the north of the region lies Tibet, Nepal on the east, and the state of Uttar Pradesh in the south. The people of Kumaun are known as Kumaunis. Kumauni is the language spoken, though Hindi is also spoken extensively. Kumaun is a well-known tourist attraction and some of the popular towns of the region include Nainital, Almora, Mukteshwar and Haldwani. The region is mountainous with around 30 peaks rising over 5,500 metres. It sees rain and snow during certain parts of the year.
KGU operates in this region and hence the name Kumaun Grameen Udyog. It produces and markets hand-knitted and hand-woven textiles; skin-care products made from apricot kernel; processed fruit products like jams and chutneys; naturally-grown culinary herbs, spices and cereals that are sourced from small-scale farmers in the region. All products are marketed under the brand name 'Kilmora', through multiple sales channels like Kilmora branded shops, other boutique stores, exhibitions and online portals. KGU also undertakes production for other established brands like Fabindia and Anokhi.
The artisans – weavers and hand-knitters from rural areas are trained by the organization, provided design and production support, and are paid at the end of every month based on individual production of specified quality. The organization has dedicated staff for various functions like training, production, procurement, inventory management, marketing, accounts and administration, who function under the chief executive. All policy-level decisions are taken in consultation with the board of directors.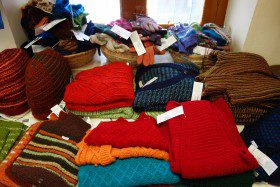 CRAFT IN FOCUS
Name of the craft: Handloom weaving and hand-knitting
Key distinctive feature: Contemporary designs and quality consciousness
Different products that can be made in handloom and hand knitting: Hand-woven textiles include shawls, stoles, scarves and yardage/tweed. Hand-knitted products include sweaters, caps, mufflers, gloves, socks, tea-cosy, infinity scarves, shrugs, toys, and a range of wool accessories.
Time taken to make a product of the craft: It is based on the size, complexity of design and speed of an individual artisan. For example, a weaver can weave about three plain shawls in a day, or two complex design shawls in a day. Similarly, for knitted products, a sweater can be knitted in 4-5 days by some knitters, while some take 2-3 weeks.
FUNDING
Currently, KGU is 100 per cent self-funded (sale of goods and services). When KGU started operations, the parent non-profit CHIRAG received funding from various national and international donors to support KGU activities.
CHALLENGES AND SOLUTIONS
Challenges
Building quality consciousness among artisans
Remote locations of artisans and poor transport and logistics options: KGU's locations are very remote from target markets (cities) and raw material suppliers.
Solutions
To address quality issues, KGU has quality managers who constantly check and record the quality of each weaver's production. KGU generates weekly quality reports and if the quality is below par, the payment (to the weaver) for those pieces is reduced. For knitters, if quality is below par, they have to open the piece and re-knit as per specifications. As part of their training, the artisans are taught to work as per specifications/written instructions. The artisans are given an opportunity to interact with customers at KGU's own shops and some of them are also sent to exhibitions in other cities like New Delhi, for market exposure and first hand feedback from customers.
To tackle the logistical challenge, KGU has processes in place to plan production and deliveries at least 3-4 months in advance so that production and delivery cycles are maintained as per schedule.
INNOVATION AND UNIQUE PROCESSES AT KGU
The uniqueness of KGU is that they have been able to run a successful craft-based rural enterprise with first generation weavers. Weaving is not a native skill in the areas they work. It was introduced as a livelihood skill by the organization and has proven to be a sustainable activity. This has helped KGU plan and create contemporary designs, which are in sync with changing market trends. Weavers with traditional skills find it difficult to switch to newer designs based on changing market trends.
PARTNERSHIPS
KGU has following partnerships and certifications:
Fair Trade Certification
The All India Artisans and Craftworkers Welfare Association (AIACA's Craftmark Certification)
Student internships from academic institutions:

National Institute of Design (NID)
National Institute of Fashion Technology (NIFT)
Institute of Rural Management, Anand (IRMA)
IMPACT ON BENEFICIARIES
KGU has worked with about 350 artisans and 800 farmers since inception and has contributed towards substantial income generation and enhancement for them. The artisans who had no fixed monthly income from their traditional sources of livelihood have been able to earn an average of INR 5,000 per month, by their engagement in KGU's weaving programme. Some of them even earn as high as INR 10,000 to 12, 000 per month. The homebased women knitters, who had no source of income have now been able to earn a supplementary income in the range of INR 800 to 2,000 per month. The spending on education has gone up in families of weavers and knitters. This is evident from the fact that most children, both boys and girls, from these families go to the private schools in the area.
"KGU has grown steadily over the last twenty years and established itself as an important change agent in the region. KGU has grown substantially by investing in skill building, product value chains and developing a niche market for the produce of the region. It has been able to create opportunities for people of the region and they in turn have been able to contribute to their own economic and social development. I believe, the biggest asset for KGU has been a dedicated and committed team that manages day to day operations of the organization and always strives to increase the positive footprint of the organization."
-Sarika Samdani, Managing Director, KGU