The Harvard South Asia Institute (SAI), in collaboration with Tata Trusts, concluded the 18-months project on 'Livelihood Creation In India' at an event hosted in New Delhi on Jan. 23. Nearly 200 people attended the event at the Taj Mahal Hotel, representing institutions including the World Bank, UNDP, Government of India, IIT Delhi, and many other top academic, corporate and civil society institutions.
The program showcased the work of the 'Livelihood Creation in India' project, with a focus on two key areas: Rural Livelihood Creation in the handicrafts and handloom sectors; and Science and Technology-based Social Entrepreneurship.
Dr. Shashank Shah, Visiting Scholar, Harvard Business School and Project Director at SAI, provided an overview to the 18 month project. "This project has involved rigorous research work with over 100 social enterprises across 15 states of India to study the challenges and capacity gaps," he said. "The Harvard SAI Team and faculty then conducted 5 capacity building workshops with 125 participating enterprises, and 10 webinars involving Harvard faculty and subject experts from India."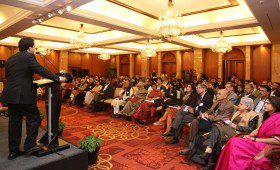 The project aimed at addressing challenges and filling the capacity gaps through residential workshops jointly conducted in collaboration with in-region experts. Over 50 crafts enterprises from 15 states of India were shortlisted for the workshop, which focused on themes of artisan outreach, product design, process innovation and supply chain efficiency, branding and merchandizing, fundraising, policy and certifications, scale, management and growth, and the use of online platforms and social media.
During the workshop, participants were immersed in the signature Harvard Business School case methodology. The workshop on science and technology-based social entrepreneurship was conducted in collaboration with IIT Delhi and focused on diverse themes including business perspectives to social entrepreneurship, perspectives from the government, design for success and impact, perspectives from the industry, and leveraging external resources. Over 25 social entrepreneurs from 14 states were shortlisted for this workshop.
A vital part of this project was to stimulate interventions and scale up existing initiatives that could lead to greater impact in select geographies. Social innovation grants were given to 16 social entrepreneurs in India to achieve this objective.
Professor Tarun Khanna, Director, Harvard University South Asia Institute; Jorge Paulo Lemann Professor, Harvard Business School; and Chairman, NITI Aayog Expert Committee on Innovation and Entrepreneurship, Government of India, and faculty chair of this project, shared the project findings and outcomes with the audience. "The South Asian region is a laboratory for entrepreneurship, technological advancement and cultural diversity," he said "The Harvard SAI consistently makes efforts to use its multi-disciplinary faculty expertise to contribute to India and the region with research-based learnings and interventions."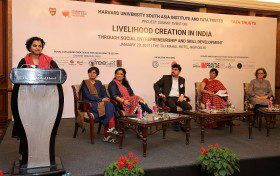 "Tata Trusts have historically supported visionary individuals and organizations with the passion to promote India's rich crafts and their potential for creating dignified livelihoods," said Shireen Vakil, Head Policy and Advocacy, Tata Trusts. "This collaborative effort with Harvard University SAI is an effort to build an engaging network of organizations that share a common purpose to rejuvenate India's crafts and its practicing artisan communities with the intent to deliver catalytic economic and social impact."
Manish Kumar, Managing Director, National Skills Development Corporation, delivered the keynote address. He highlighted a number of projects initiated by the government for skills training, and emphasized their role in contributing to livelihood creation in India.
The Harvard SAI team and select invited guests then released three publications that include reflections by subject experts and showcase some high impact interventions by participating organisations. These included:
Innovation in Tradition: Rural Livelihood Creation in the Indian Crafts Sector
Science for Society: Science and Technology Based Social Entrepreneurship
Task-shifting in Healthcare: Reframing the AYUSH Debate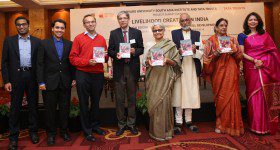 Two panel discussions followed. The first was on Rural Livelihood Creation in the Indian Crafts Sector, anchored by Dr. Vandana Bhandari, Former Dean and Professor National Institute of Fashion Technology, Delhi. It consisted of discussions with six grantees who were supported by this project, and the impact that these interventions have had on their enterprises. These included: Sarika Samdani, Kumaun Grameen Udyog; Sharda Gautam, The Handloom School; Sarika Kulkarni, Raah Foundation; Janet Rogers, Freeset Fabrics; Vijaya Switha, Chitrika; and Mayura Balasubramanian, Craftizen. The panel concluded with the announcement of the launch of the 'All India Arts Alliance', a forum formed by participants from the Harvard SAI crafts workshop held in January 2016. Ihitashri Shandilya, CEO, MithilAsmita provided a broad overview to and the vision of this alliance.
The second panel focused on 'Science and Technology Based Social Entrepreneurship' and was anchored by Professor Tarun Khanna. The first part consisted of conversations with the grantees supported by the project. These included Arjun Gupta, Smart Joules; and Sumona Karjee, Prantae. Another social entrepreneur, Ravi Elangovan from IIT Delhi was also a part of this panel. The main focus of the conversation was the transition from science to the venture and the challenges they faced in the process. The second sub-panel consisted of subject experts who spoke on policy initiatives and interventions that could positively influence the sector. These included Satya Prakash Dash, Head of Strategy and Partnership, Department of Biotechnology, Govt. of India; Vikram Gandhi, Senior Lecturer, Harvard Business School; Ambuj Sagar, Professor at IITD Delhi; Satchit Balsari, Fello, TH Chan Harvard School of Public Health.
Professor K. VijayRaghavan, Secretary, Department of Biotechnology, Ministry of Science and Technology, Govt. of India, delivered the concluding remarks.