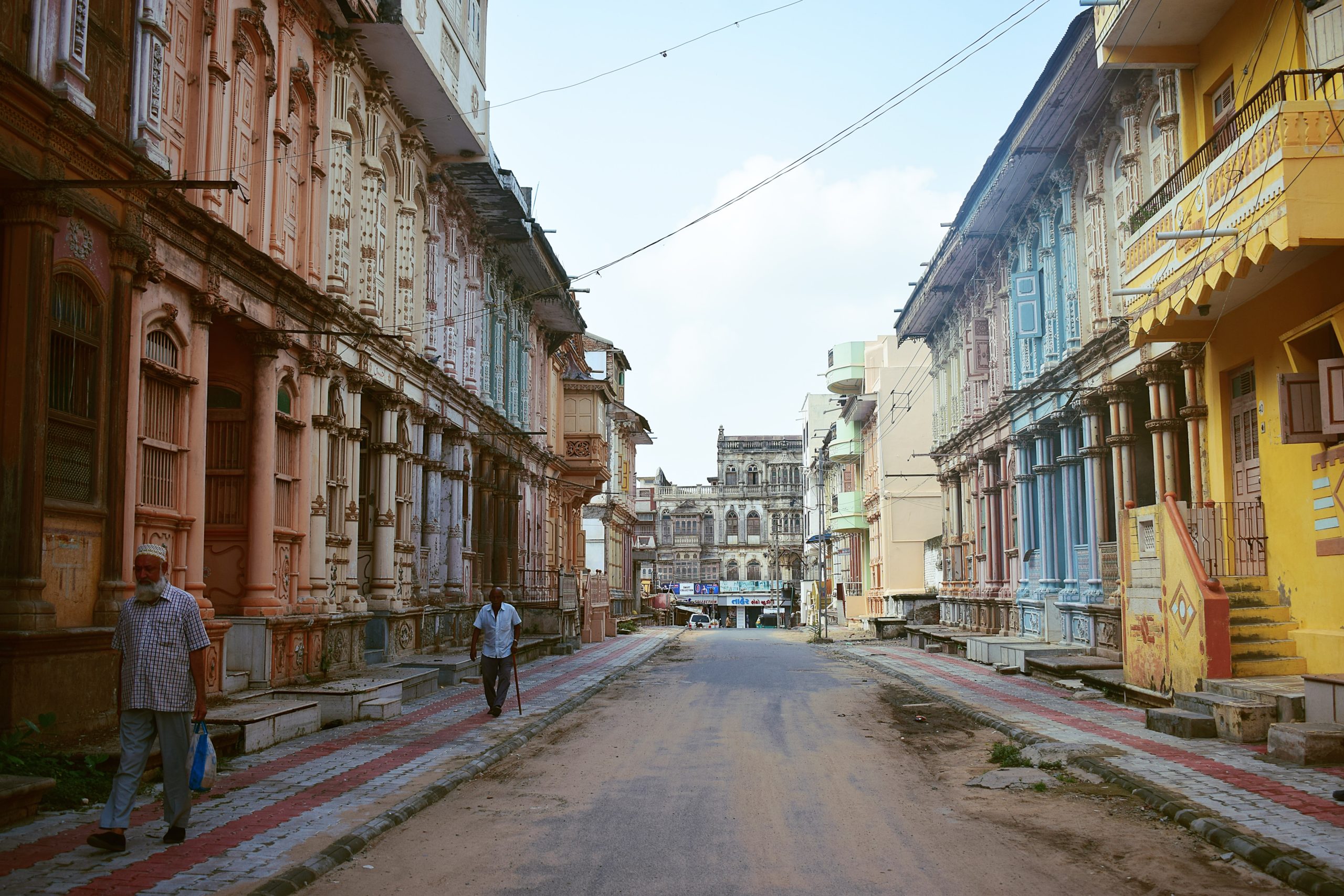 Bohrawad, Sidhpur, India. Photo by Lisa Therese.
The COVID-19 pandemic has impacted the entire globe, requiring quick action from governments and the populace to stem the flow of transmission. With many in quarantine or lockdown, the pandemic has changed the daily way of life for many around the world.
This week, we spoke with members of the Mittal Institute team in India, Nepal, and Pakistan to get a firsthand look into the situation on the ground in South Asia, from recent governmental guidance and regulations to the response of the population and how it will impact society.
INDIA
Sanjay Kumar, India Country Director, Mittal Institute
Life is not the same for people in India. A nation of 1.3 billion is up against an enemy that is invisible, and yet seems to be invincible. The present generations have never witnessed such fear of any pandemic in their lifetime. As India prepares its defense against local transmission of the virus, public health measures, community preparedness, and the practice of social distancing have become critical. The fight is not going to be easy. On the eve of March 24, the central government in India encouraged people to stay home by announcing a nationwide shutdown from midnight onwards. This will be crucial to help prevent transmission of the virus in the coming days.
The central government has invoked powers under the Epidemic Diseases Act, 1897, to enhance preparedness and response efforts. With COVID-19 declared a notified disaster, the State Disaster Response Fund — constituted under the Disaster Management Act, 2005 — is now available to state governments for response measures.
The first case of coronavirus in India was reported on January 30 this year. As of March 26, the Indian Authorities have confirmed a total of 694 confirmed cases, 44 recoveries, 1 migration, and 16 deaths in the country. The infection rate of COVID-19 in India is reported to be 1.7, which is remarkably lower when compared to the worst affected countries. The virus, which has literally brought the world to a halt, is set to impact India as well.
The outbreak of COVID-19 is equally dangerous for people from all sectors of society. Everyone is mandated to follow the protocol for social distancing. This pandemic will significantly affect workers in the informal economy in India, which consists of more than 93 percent of the workforce. As a result of social distancing and now with the lockdown, many informal workers will lose their wages during this time, and some are likely to go unemployed. Factory workers, small wage earners such as construction workers, domestic maids, street vendors, migrant laborers, and so on, will be the worst affected. Many of them will need to borrow money from informal financial institutions, such as moneylenders, to meet their expenses during this period of uncertainty.
At present, we do not have enough data to predict the number of people in India who will have a secured job once the pandemic is over. The entire Indian economy will be adversely affected, and businesses will require months to return to a normal cycle. On March 24, the central government declared several relaxations in compliances by extending deadlines and reducing fines, and is also planning a financial package to help the economy cope with these unusual circumstances.
During this deep crisis, there is a strong commitment to service among doctors, government officials, and the frontline workers who are risking their lives to provide essential services. Doctors who are treating COVID-19 patients are unable to see their families for days at a time. Policemen are bending over backwards to stop people from violating curfews and maintaining law and order to ensure smooth functioning of essential services. Officials and service providers are working day and night to ensure uninterrupted supply of services such as electricity, gas, and water. On March 22, at the behest of Prime Minister Narendra Modi, people across India expressed gratitude and appreciation for the selfless services of doctors and frontline workers by clapping from their balconies and rooftops.
In the fight against this deadly virus, government and people are together. It is going to be a long haul, and inevitably so. However, it could also be interpreted as a time and opportunity to explore alternative ways to work. Each country is putting up a fight against this pandemic in its own unique way, and so does India. Some academic institutions have started using Zoom and Blackboard Inc. to run their classes. Virtual press conferences are becoming a reality. Television sets, computers, and mobile devices have become the most important tools of communication and entertainment.
The next few weeks are going to be very crucial for India. People will have to follow the curbs imposed during the lockdown. With all the uncertainties about the length and breadth of the problem, it is one of the most challenging times for India — as it is for the world. As the second most populous country in the world, the response of Indian government and citizens is crucial to contain this deadly virus.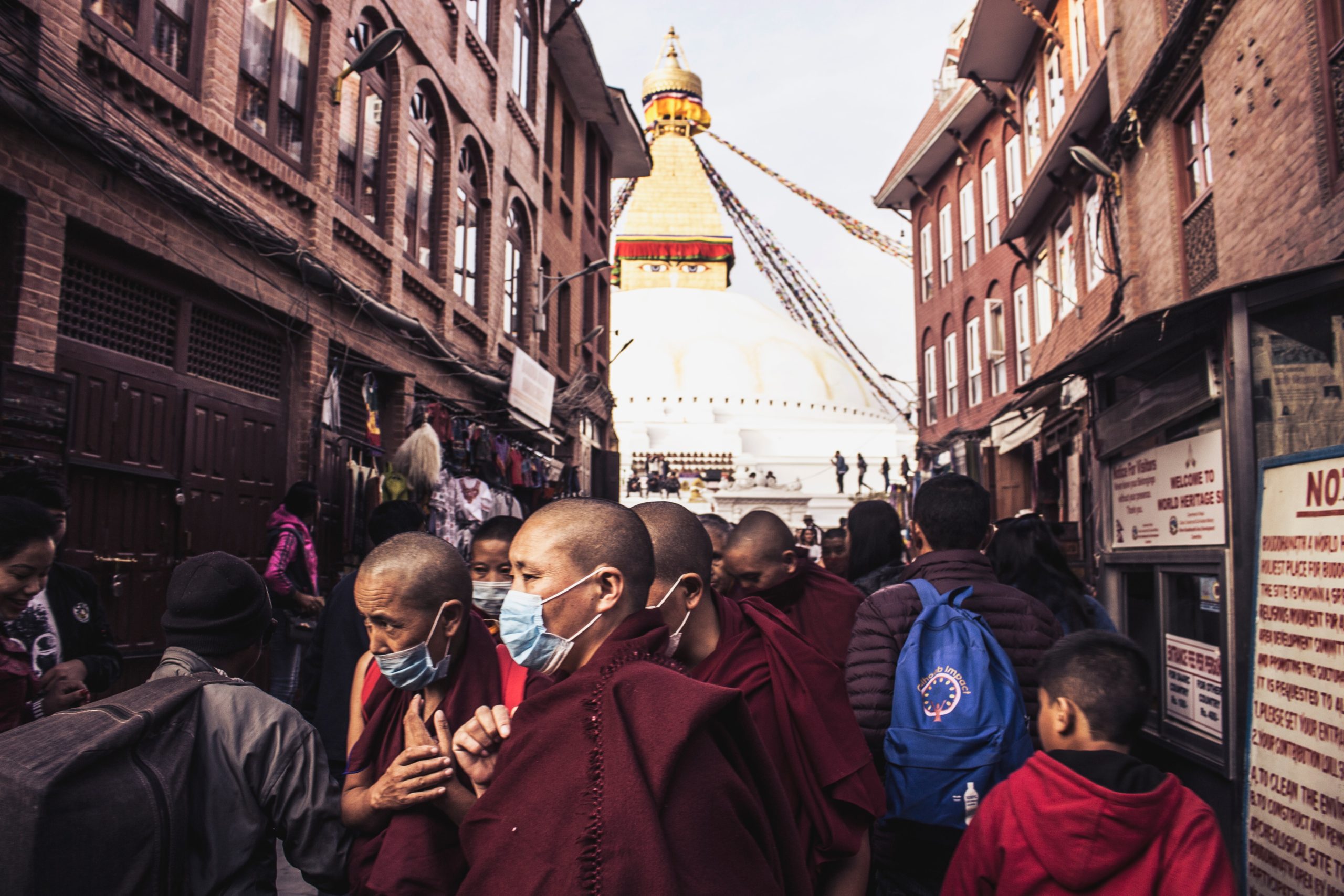 Bauddha Temple, काठमाडौँ, Nepal. Photo by Sabin Basnet.
NEPAL
Pukar Malla, Nepal Programs Director, Mittal Institute
Nepal currently has three confirmed and one recovered cases, as of March 26, with 758 tests taken. Since March 24, the country has been in lockdown. The government took this critical proactive step, which has received public support, when only two cases had been confirmed. Since last week, most people have left Kathmandu Valley for their home districts, fearing the lockdown and a reduction in travel possibilities. The real number of cases can be significantly higher, given that the test rate is low and that many pre-lockdown travelers from various ports may not have strictly followed the government's 14-day self-quarantine requirement.
Nepal has only one hospital, located in Kathmandu, that can conduct tests — but preparations are underway to increase testing capabilities in other hospitals. Our health system is weak and any outbreak can break us much faster than we can recover. While the world alarms arose over the past several weeks, most Nepalis did not appear to be practicing social distancing. Only once the government began announcing safety measures last week, and of course after the lockdown this week, did I begin seeing people behave differently. The government is taking active steps to increase temporary quarantine sites and hospital capacity across all provinces in preparation for further outbreak.
As we all anticipate that this lockdown period will lengthen, most Nepalis are worried about continued and effective availability of basic food and medical supplies. Looming large are economic issues for the daily wageworkers, as well as micro and small enterprise employees, who will lose jobs and market in the current and post-pandemic economic order.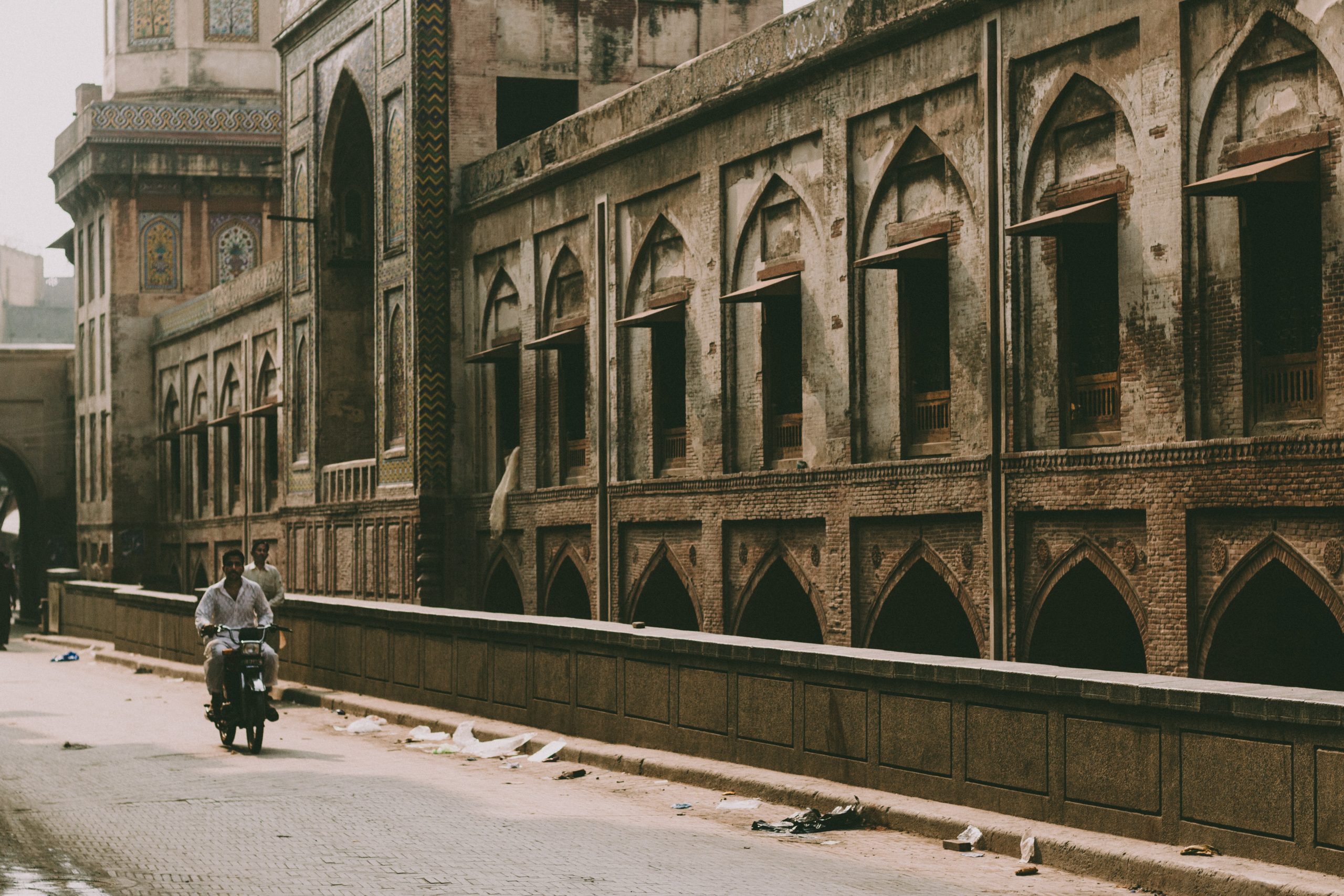 Lahore, Pakistan. Photo by Muhammad Muzamil.
PAKISTAN
Mariam Chughtai, Pakistan Programs Director, Mittal Institute
The situation in Pakistan is similar to other South Asian countries. However, since the government acted quickly and enforced a lockdown at an early stage, the number of diagnosed positive cases in Pakistan has only recently, as of March 24, exceeded 1,000. But a young doctor recently died, and the country is reminded of a healthcare system that is fragile due to decades of neglect.
People are afraid as the country and all industry comes to a halt. Given global patterns, deaths will increase sharply in upcoming weeks. People have not yet internalized the difficult realities of how burials of coronavirus patients may need to be managed, perhaps en masse and without traditional religious rites. It is very difficult to maintain much focus given the physical and emotional trauma that will unfold ahead. Universities and schools are shut down until May 31, and rapidly shifting to online learning. We anticipate the unrest will go well into the summer, creating learning gaps for millions of children and young adults. This is an opportunity for EdTech to demonstrate its potential, and some universities are taking the lead in this effort.
Prime Minister Imran Khan has committed to developing a food security plan before a formal curfew is announced. Almost 25% of Pakistan's people live below the poverty line — about 87 million people. This means that the poor around me will either die of the virus or from the starvation that the halt to the economy and joblessness will create. Many people here are daily wageworkers.
The religious leadership in the country has cooperated with the government to discourage religious congregations, and people have largely complied. The Prime Minister is holding regular live sessions with the public and media, answering questions and providing guidance. These are watched live on TV and social media by millions — which has helped to develop a "name and shame" culture toward those who are not observing social distancing. Questions of class and privilege are being discussed, as the difference between being literate and being educated becomes obvious.
The collectivist culture in Pakistan gives me hope. Several initiatives have been taken up by civil society to provide food rations to underprivileged households and to those who typically live paycheck to paycheck. There is talk of a youth-led volunteer force, which will make sure food is delivered to every household at risk of hunger. That is a good model for a country with 64% of its people younger than 30 years of age, and an excellent education in social responsibility.
In the end, our greatest challenge will not be to survive the pandemic but to see how well our humanity thrives in the face of adversity. My prayers are with my colleagues across all borders.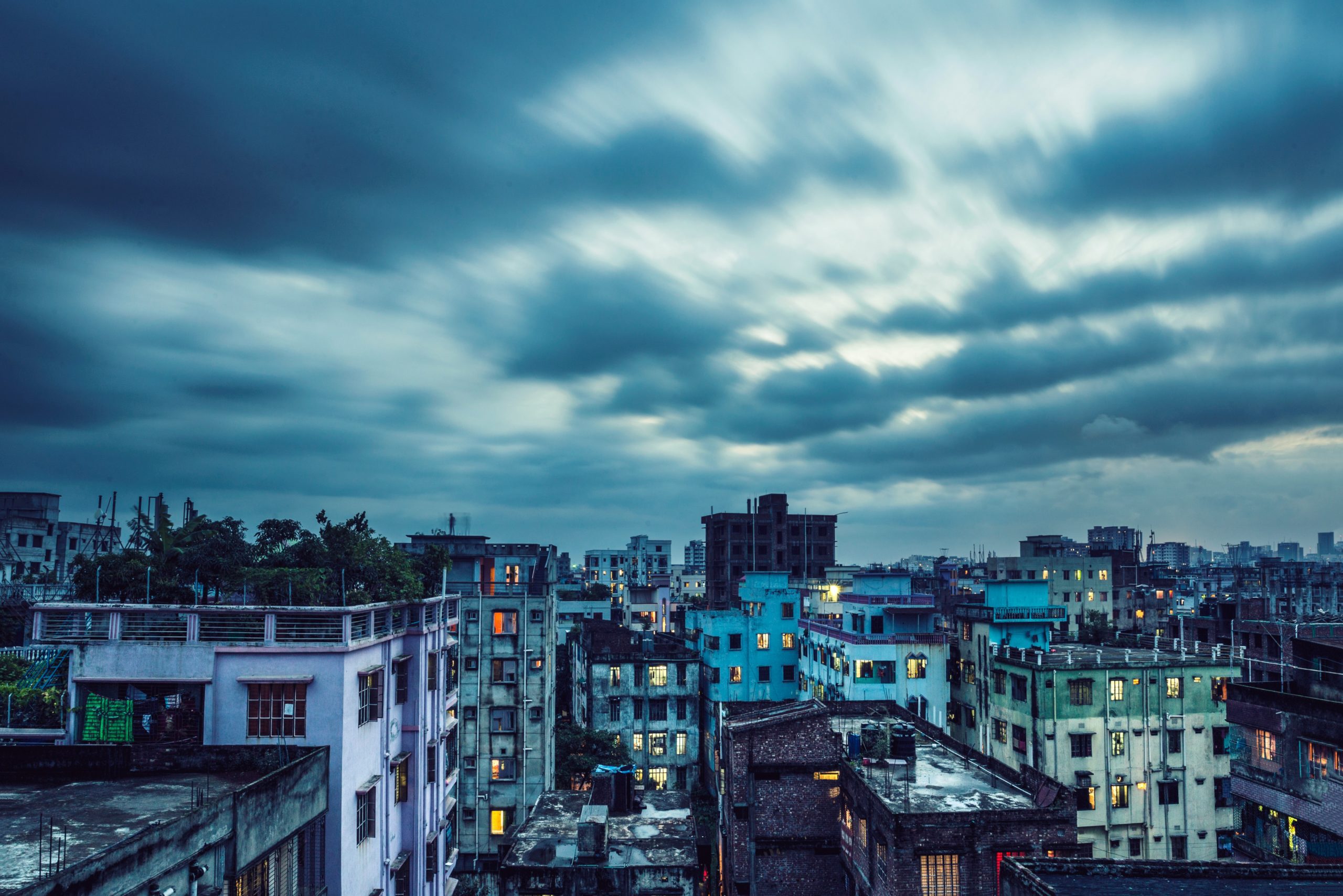 Bibir Bagicha Road No 1, Dhaka, Bangladesh. Photo by Ahmed Hasan.
BANGLADESH
Ejaj Ahmad, President and Founder, Bangladesh Youth Leadership Center
Bangladesh registered its first case of COVID-19 on March 8, 2020, and the lives of its 168 million citizens haven't been the same since. As of March 31, we have seen a total of 56 confirmed cases, 26 recoveries, and six deaths. Though these numbers are quite low in comparison to global figures, it is difficult to gauge the actual spread of the infection, as the country has barely been able to test potential cases.
The government has been prompt in taking measures to curb the spread of the pandemic. Prime Minister Sheikh Hasina, in a televised address to the nation on March 25, announced a 10-day general holiday through April 4, which was extended until April 11. To limit mass gatherings, restrictions were imposed on the movement of public transport. Most offices and shops, except essential services, were closed. The World Health Organization, however, has acknowledged that social distancing and home quarantine may have little impact in the packed slums of Dhaka — the nation's capital, which houses 47,000 people per square kilometer — or the densely populated Rohingya refugee camps of Cox's Bazar.
Beyond the health implications of COVID-19, a country like Bangladesh does not have the fiscal capacity for a prolonged lockdown. While the general holidays will help flatten the curve, there will be far-reaching consequences on peoples' livelihoods. Over the past three weeks, the readymade garments (RMG) industry has experienced order cancellations or pauses in excess of USD 2.9 billion by western buyers. This will have a devastating effect on the economy, in a country where more than 80 percent of the export earnings come from the RMG sector. The government has presented a USD 588.5 million stimulus package, amounting to 0.17 percent of the GDP, to support workers in export industries, but this will not be enough.
As one of the top 10 remittance-earning countries in the world, Bangladesh's rural economy will be hit hard. Declining oil prices will shrink the economies of major oil exporters, like UAE and Saudi Arabia — two of the most popular destinations for Bangladeshi migrant workers. Out of the country's 10 million migrant workers, more than 650,000 have returned to Bangladesh between January and March of this year due to the spread of COVID-19. As the global recession deepens in the coming weeks and months, Bangladesh will see further decline in remittances, which will threaten the livelihoods of millions of rural families who depend on migrant workers.
The informal sector of the economy will also bear the brunt of the current lockdown. Of the total 60.8 million employed in the country, 85.1 percent work in the informal sector. The lockdown has affected their daily earnings, and many have become unemployed. Additionally, tens of thousands of small and medium enterprises (SMEs) throughout the country now face falling domestic demand. With continued lockdown and declining sales, most of these SMEs will struggle to survive unless they receive government support.
Overall, this will be a hard battle for Bangladesh to win, from both the economic and public health perspectives. Bangladesh's health budget is only 4.9 percent of its total budget and 0.9 percent of its GDP. Given this limited budget for healthcare, it will be a challenge for Bangladesh to minimize losses as the virus spreads. The country has only 29 intensive care units available to fight COVID-19. The government recently allocated USD 29.4 million to help the health ministry take necessary measures to contain the spread and treat patients.
Despite all of this, citizens and organizations have come forward to overcome the crisis. BRAC, the largest NGO in the world, announced that it will provide food to 100,000 impoverished families for two weeks. Bashundhara Group has committed to building a temporary 5,000-bed hospital to treat coronavirus patients. Akij Group is building a 300-bed hospital in Dhaka. Many NGOs and factories are producing and distributing personal protective equipment to doctors and healthcare providers.
We are living in extraordinary times. And extraordinary times require extraordinary leadership. The current lockdown can help bring the trajectory of cases down, but an extended period is not sustainable. Production will have to resume — but when? For now, directing resources to ensure livelihood of the bottom half of the population may be a good strategy. Our bridges, metro rails, and expressways can wait a year or two. Saving our peoples' lives can't.