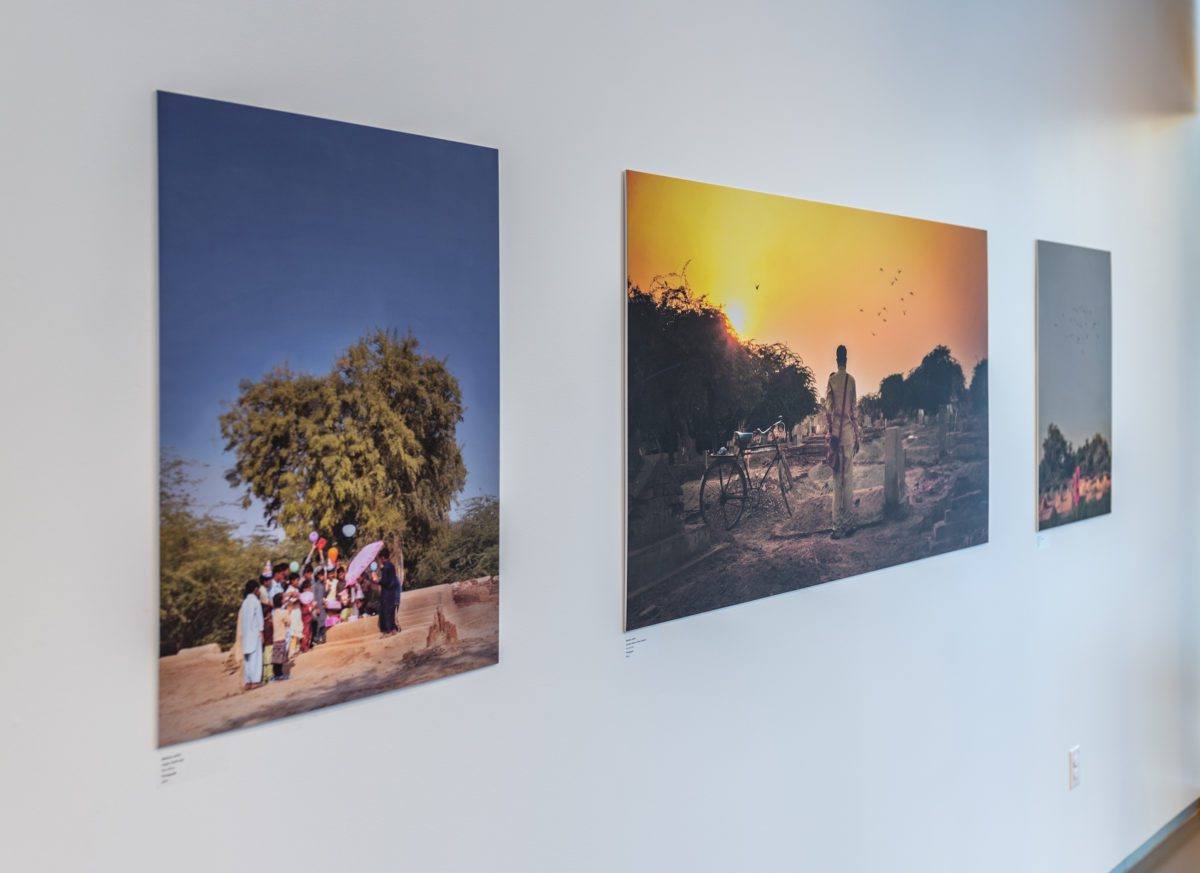 A Visiting Artist Fellowship exhibition in 2019.
The Mittal Institute's Visiting Artist Fellowship (VAF) is part of a thriving Arts Program at the Institute that seeks to expand opportunities to connect South Asia's rich and varied artistic culture to the Harvard community, as well as enhance the arts in South Asia through access to Harvard's vast resources. As part of this program, the VAF provides a unique opportunity for outstanding mid-career visual artists from South Asia to come to the Harvard campus to undertake a self-driven research project under the mentorship of a Harvard faculty member. We spoke with the Institute's Arts Program Manager, Sneha Shrestha, to learn more about the VAF program, what makes a successful candidate, and how she hopes the program will grow in the future.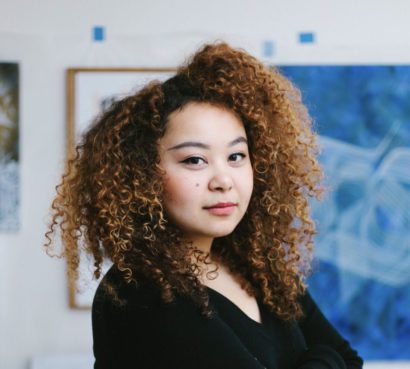 Mittal Institute: The VAF Program has been running successfully for six years now, having grown from a two-week to an eight-week initiative. What sets the VAF Program apart from other artist residencies programs?
Sneha Shrestha: Yes, the VAF program has grown tremendously over the last few years. We now have over two dozen alumni from across the region. I think one of the key areas that makes the VAF program unique is that it is a research-based program. Unlike a traditional artist residency where artists are provided a studio space and are expected to create a body of work by the end, the VAF supports artists who want to conduct research to better inform their art practice. 
For example, last year Pragati Dalvi from India researched how American poets and women's movements have influenced public performances. During her fellowship, among many other resources, she also attended Harvard Professor Nora Schultz's Studio Language class and used the Schlesinger Library to look at archives on the poet Adrienne Rich. These were all areas that helped her think about her own practice, which focused on women in contemporary India. Read more about Pragati's time at Harvard as a VAF Fellow here.
We also hosted sculptor Sakshi Gupta, who arrived on campus with an idea for her research but switched gears after being introduced to the concept of soundscapes as sculptures in one of her classes here on campus. She was so intrigued by what she learned that she ended up adopting it as her research topic. So, as long as artists are curious, the research possibilities are endless!  
The VAF supports artists who want to conduct research to better inform their art practice . . . As long as artists are curious, the research possibilities are endless!  
Mittal Institute: Take us inside the eight weeks on campus. What happens and what impact do you hope it has on visiting artists and their future?
Sneha Shrestha: Since the program is short, artists arrive at Harvard and dive right in. The program starts with a one-week orientation, where artists are introduced to the campus community, provided with the necessary IDs they need to access all that Harvard offers, and are connected to the various Harvard institutions related to their research. VAFs are also provided with desk space here at the Mittal Institute, giving them a home base on campus. It's also a good way to meet other fellows in residence at the Institute.
As a way of introducing visiting artists to the Harvard community, VAFs also get an opportunity to exhibit images of their previous work at the Mittal office space. And halfway into the program, the artists give a talk on their work and what they hope to research at Harvard. This event is always a highlight for VAFs and the campus community. It's also an opportunity to work with the Mittal Institute Communications team to gain visibility among the Institute's audiences. Watch a recent VAF artist talk featuring Mehwish Abid here.
Besides these areas, the program is fairly self directed. Artists can decide how to use their time – be it visiting Harvard museums, libraries, or archives; attending various talks and classes; or meeting faculty. The weeks go by quickly and there is so much to take advantage of during the semester, so we always encourage VAFs to use every moment!  
Mittal Institute: You have had artists from many countries in South Asia and from a variety of visual artistic mediums. What do you and the Review Committee look for in applicants? What qualities make for a successful VAF?
Sneha Shrestha: That's a great question. We receive many outstanding candidates, but there are only two slots each semester, so it's highly selective. And there are definitely key aspects that we've learned fit really well with the research focus of this particular residency. To start, the jury looks for applicants who have a strong studio practice and are actively showing work. But they also want to know what artist applicants are genuinely interested in researching while at Harvard, so the essays are an important part of the application. 
Also, the residency focuses on mid-career professionals who have carved out a space for their work but could benefit from this time on campus to deepen their engagement with their practice's themes. All in all, the ideal candidate is both focused on building their artistic practice and deepening and enriching it by diving more deeply into a subject matter. That is very different from an artist looking to expand their body of work and create during a residency.
Mittal Institute: What do you think the VAF program has brought to the Harvard community since its founding? Where do you hope it can grow in the future?
Sneha Shrestha: The VAF program is one of the few programs at Harvard that connects the campus community to contemporary South Asian artists. Harvard students and faculty get to hear about South Asian issues and culture directly from the artists. The artists also offer unique perspectives on various topics–from issues focused on women in the region to the Partition of British India. Art provides a unique lens to discuss both contemporary and historic themes related to the subcontinent.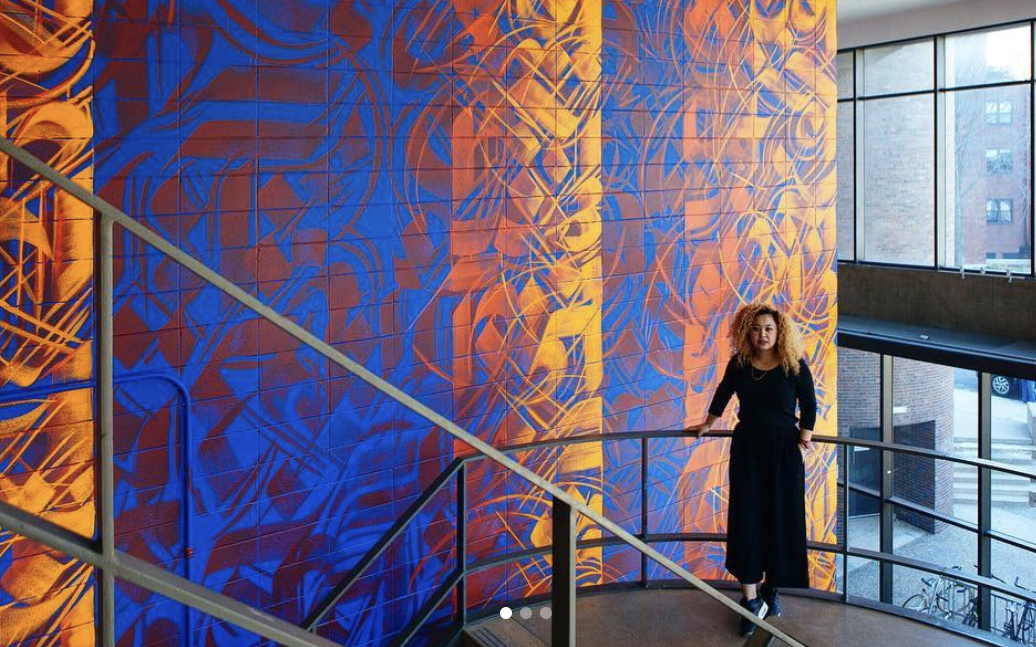 Sneha with a mural she created.
Mittal Institute: You are a Nepali artist yourself — could you tell us more about your own practice and how your arts and South Asian background has helped you guide the program and fellows who come here?
Sneha Shrestha: Being South Asian, I love the opportunity to learn about different artists' works and the issues they are addressing. Also, having been a student at Harvard and currently a working artist who creates work based on my research on 14th-century Nepali manuscripts, I know from firsthand experience how much Harvard's resources have helped inspire my work. So I can identify with artists who join us in the program and guide them to the resources they need. It can be quite overwhelming to navigate Harvard's ecosystem in a short amount of time, but also extremely rewarding. That's what makes my job so enjoyable and gets me excited every time a new fellow arrives here with us.
Read about a VAF's arrival on campus in "Harvard, through their eyes."
Learn more about the Mittal Institute's Visiting Artist Program and apply by May 10, 2022.