Richa Gupta, GSE'21 and co-founder of the Labhya Foundation, has no shortage of ambitious goals. By 2030, she hopes to reach 30-million underserved children with a new "happiness curriculum" in some of the most unserved corners of India. The effort to bring social-emotional learning grew out of her own experiences on the frontlines as a teacher in under-resourced schools for more than a decade.
She and her co-founders, who also brought their life experiences to the founding, now run the Labhya Foundation and received a Mittal Institute Seed for Change grant to catalyze their efforts. Gupta was recently named one of 17 New Young Leaders for the Sustainable Development Goals by the United Nations. We spoke with her about founding the organization, how the Seed for Change grant helped expand their efforts and what's on the horizon.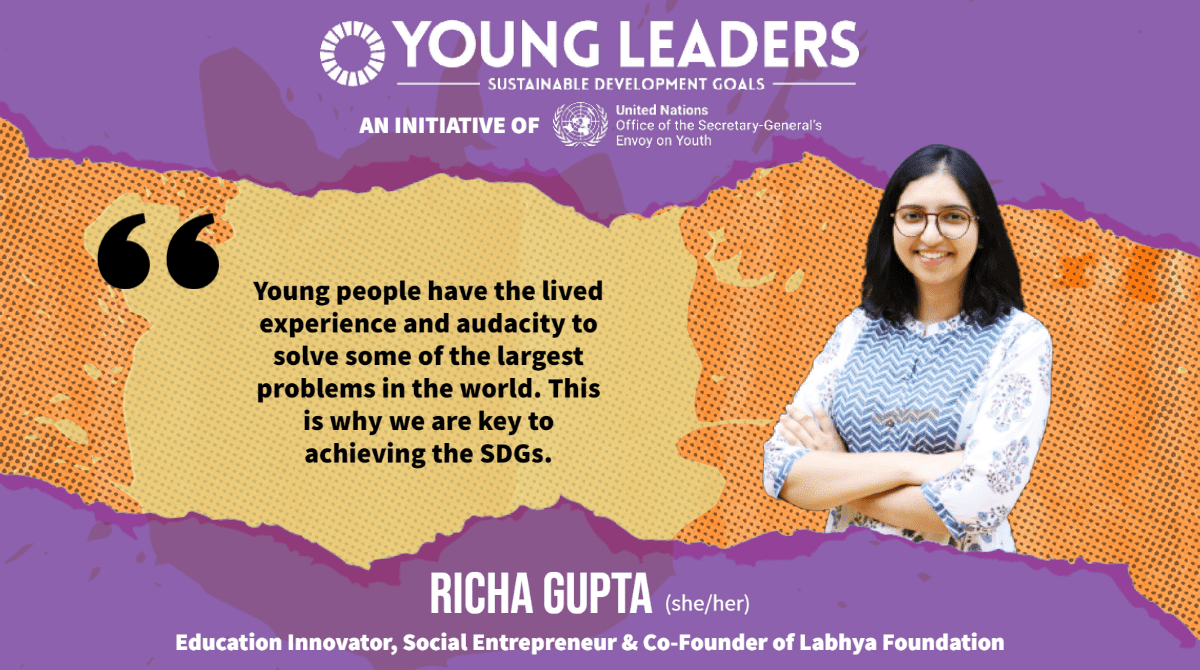 Mittal Institute: Congratulations on this award, Richa! Could you tell us how the idea for Labhya came about, and how it was founded?
Richa Gupta: Labhya was co-founded by myself, and two of my co-founders Vedant Jain and Malika Taneja. The idea came from our own lived experiences and what we witnessed in our previous lives. For me, I was a teacher and an entrepreneur. I spent about a decade teaching in low-income communities and classrooms, and over those few years I realized that we aren't doing enough to serve the children who are the most underserved in India. I could be the most amazing teacher in the most rigorous classrooms with all kinds of resources in my classroom, but the kind of choices my children had to face – the kind of adversity that they had to face outside of the classroom – was something that they were not being prepared for by the public education system.
That's what pushed me to think deeply about my purpose as an educator. Was I doing enough, and what more could be done? At that time I met with my co-founders, Vedant and Malika, and they were both very entrepreneurial. They were experienced professionals much older than I was. And that's how we started Labhya, with a vision to make social-emotional well-being accessible to 30-million underserved children by 2030.
How we do that is by partnering with state governments across India and helping them implement a daily, 30-minute well-being class across all public schools of the state. So, just like our children have a math or a science or an English class, they now have something called a "happiness class" that is in the local language, co-created by school teachers with the feedback of parents and children to really create a localized experience of well-being for our children.
Today, as we speak, we have impacted about 2.4 million children who experience the class every day. And this is happening across 22,000 schools. And we partner with three state governments to do that.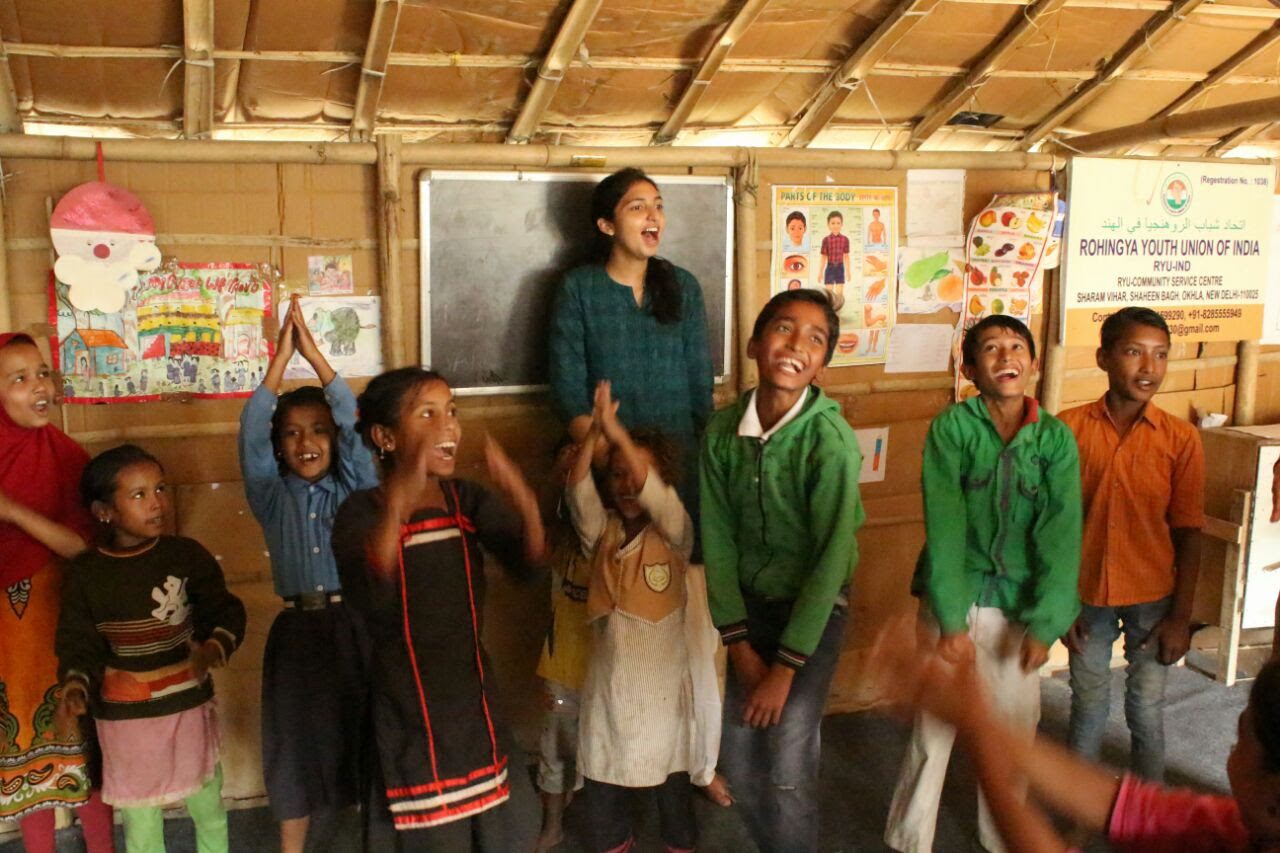 Richa went from teaching children in low-income communities of Delhi, to building her non-profit, Labhya Foundation. The organisation works with governments to make Social Emotional Learning accessible to 2.4 million children.
Mittal Institute: Wow, that's amazing, Richa! And at what point did Labhya intersect with Harvard?
Richa Gupta: We were already in two states when I started as a student at Harvard's Graduate School of Education. I came with a purpose to learn more about how we would really achieve our vision.
My connection with the Mittal Institute began with the Seed for Change grant, which was extremely helpful for us at a moment when we were looking to scale to a state, which was very, very difficult to work with in an extremely underfunded geography. But a very highly motivated government who would have done anything to replicate the program in the State.
There were many challenges waiting for us. First, the extreme lack of funding in the northeast of India towards education. Well being was not even a conversation at the systems level over there.
Third, the language and the dialects are something that are extremely localized there. So we would have had to prepare a program with much more than in other states that we were working with, who were. For that reason, I pitched to the Seed for Change Grant panel applied, and they truly understood the problem that we were trying to solve, and very clearly what kind of impact it would create for all 400,000 children across all 4,000 public schools of Tripura, which is the state we ended up partnering with because of Seed for Change's support. And that's how our journey began.
Mittal Institute: Tell me a little bit more about the Seed for Change process and the support that you got in that expansion.
Richa Gupta: First, just the pitching panel itself was extremely thoughtful. At times, it becomes easy to question the program sitting in a Zoom screen, but actually, the panelists asked us some very, very insightful questions about what challenges we might face; how are we strategically looking at scale; and how we would best utilize the grant?
Also, the fact that Seed for Change isn't an unrestricted grant, which gave us the flexibility to deploy the resources based on the needs of the ground, was extremely important to us and something that we deeply appreciated. With the help of the entire selection process, writing of the proposal, the budget, the flexibility of teams at the Institute to support us in articulating our work, I think all that in itself was a learning experience. And more importantly, the fact that we were able to do some very tangible things because of the grant. For example, we deployed our first team member in the state and we did our first few trainings with our master trainers because of Seed for Change support. That really helped us a lot with growth and showed other donors that this is possible in such a difficult state, and hence you must come and support us, which is what ended up happening. And of course, we are extremely grateful that the grant also got renewed this year to support us further.
Mittal Institute: It's just amazing to hear how much it's grown and the really transformative impact its having on students. What continues to drive you and your team?
Richa Gupta: What keeps driving me is every time I'm able to walk into a public school that has one of our classes running in it. I see a lot of children deeply reflecting on their lives, on the challenges. I see them practicing the skills that will, in the long term, really help them thrive and cope with the poverty that they're dealing with today. I also see a lot of empowered teachers who feel like they are much more than just trainers and facilitators in the classroom and can truly make a difference. I think that's what really, really drives me. On the day to day, and of course, with generous partners like Seed for Change and LMSAI, we have been able to build a really beautiful team with every team member proximate to the problem, having either witnessed a problem or experienced a problem.
What keeps driving me is every time I'm able to walk into a public school that has one of our classes running in it. I see a lot of children deeply reflecting on their lives, on the challenges. I also see a lot of empowered teachers who feel like they can truly make a difference.
Mittal Institute: Now, as a successful entrepreneur, what would advice would you give to students who might be applying for this Seed for Change grant about entrepreneurship and building an organization like this?
Richa Gupta: The one major piece of advice, and actually learning that I have had in my journey as well, that I would like to pass on to other entrepreneurs and people who apply to Seed for Change is to think about true sustainability. The Seed for Change capital was extremely catalytic for us, because we deployed it in places where it would have a long-term impact on our children. It was not a five-month or a six-month, or a one-year project.
We invested it in a way that now the government of Tripura will always prioritize children's well-being in a systemic way. The class is mandated every single day. The team is deployed, and nothing can be as important as that systems-level sustainability and long-term strategy. So that would be my one suggestion.
Mittal Institute: Now what's next for you in the organization?
Richa Gupta: So what is next is two things. One is to expand the evidence of our program to make a bigger, more sturdy case for investing in children's well-being in India. Talking about underserved children's emotional well-being is still a very taboo topic in not just India but in general, all over the world. And we are yet to, as a global community, really push ourselves to prioritize that. So it will really enable us to truly build that conversation and make it a national conversation to talk about children's well-being and really invest in it, not just talk about it.
Richa and the other United Nations Young Leaders 2022.
Mittal Institute: Finally, congratulations on the UN award! Could you tell us more about it?
Richa Gupta: Absolutely. So every two years the United Nations selects 17 young global leaders to represent and to amplify the Sustainable Development Goals. Gratefully, and with a lot of humility, I would love to share that I got selected as one of the 17, the Class of 2022 Sustainable Development Goals Young Leaders, endorsed by the United Nations.
It's an incredible honor. It's unbelievable, and I hope that in the next two years, we will be able to amplify the need to focus on students well-being in education and through education because of this amazing platform.