For the 35th anniversary of Harvard's Ghungroo—the longest-running student showcase of South Asian culture on campus—the production quality was bigger and better than ever. The event featured musical acts, dancing, comedic entertainment, and much more. We interviewed student organizers Sarah R. Ramberran '24, Shraddha Joshi '24 and Harini Kannan '24 for a behind-the-scenes look at what went into planning this beloved campus event.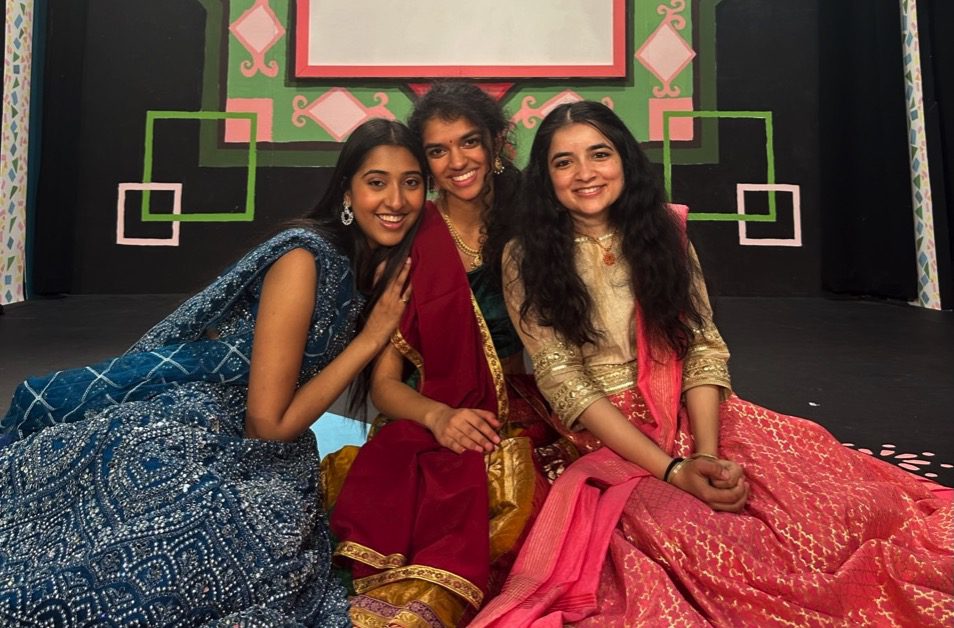 Left to Right: Sarah Ramberran, Harini Kannan, Shraddha Joshi. 
Mittal Institute: Can you give our readers some of the backstory of Ghungroo – why was it started at Harvard, and what is the goal of the production?
Shraddha Joshi: Ghungroo is the largest student-run production campus at Harvard, and this is actually the show's 35th year. The production was established decades ago by South Asian students at Harvard as a celebration of cultural arts and a way to bring together the community. It was originally founded as part of the South Asian Association and now– having grown to 350+ performers and a tech team of nearly a 100 people– stands as its own organization, working with Harvard's many South Asian organizations and community members to create a space of cultural exploration. From what we understand, Ghungroo was once a way to put South Asia on the map for a broader audience; today, years later, the South Asian community has grown immensely, and in Ghungroo 2023, we have relied on our theme "Facets," to showcase the complexities, contradictions, and unities in our varied experiences as South Asians. We have also tried to spark dialogue about leveraging the vast platform that is Ghungroo for political expression and social justice.
Mittal Institute: To create such a showcase, you must be organized and methodical! When did you start planning, and what went into the preparation?
Harini Kannan: We started planning from the moment we became directors, at the end of May 2022! We spent the summer thinking about our high-level vision for the show. This started with us implementing a new organizational structure called the "executive board" including a representative from each South Asian affinity organization. With Ghungroo's Executive Board we brainstormed what we wanted to include in the show this year, creating our show's theme "Facets". We also gathered feedback from last year's production team (GTech) members, and at the start of the year used this feedback to guide our structure of this year's GTech as well as shape the vision of the show itself. After interviewing all applicants for this year's GTech, we appointed everyone into positions in October. With a new, excited 98 person team that's when things really started!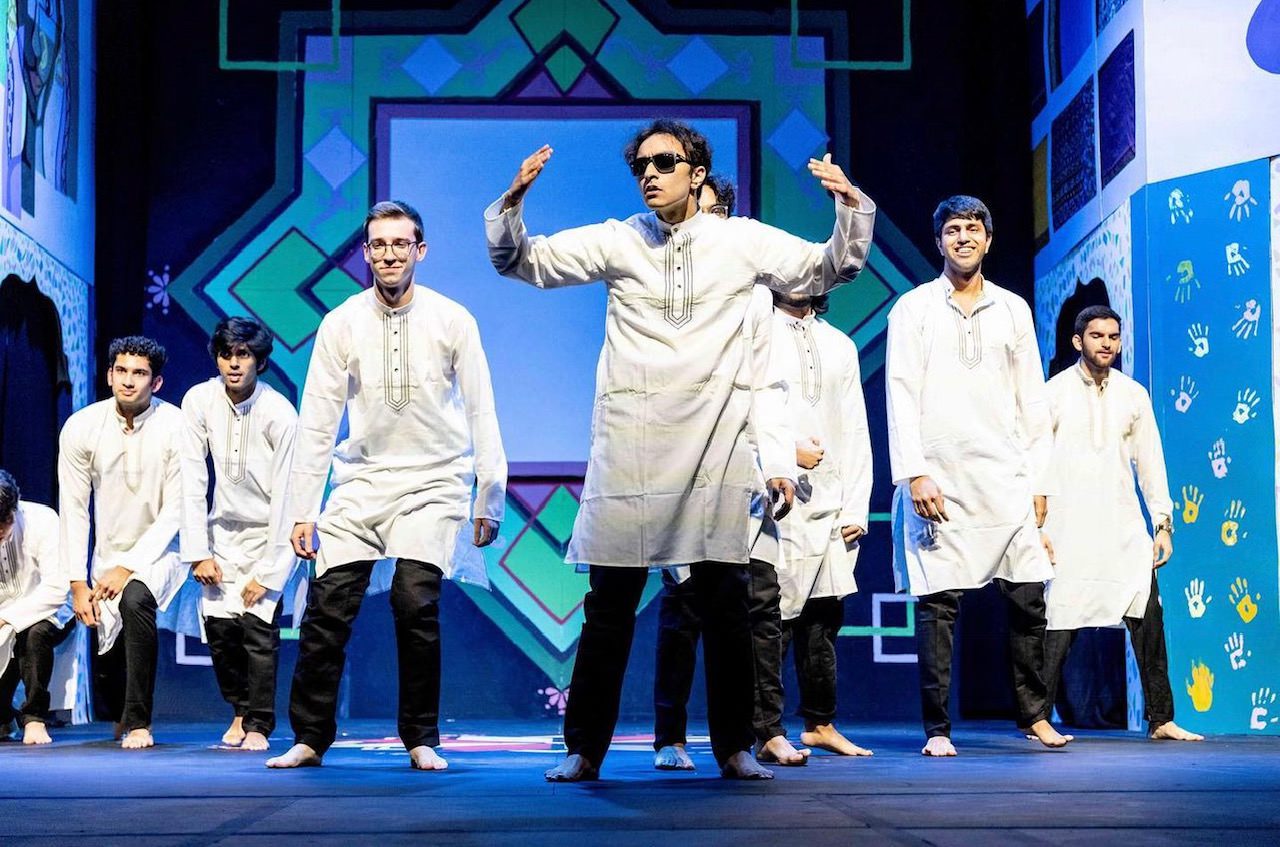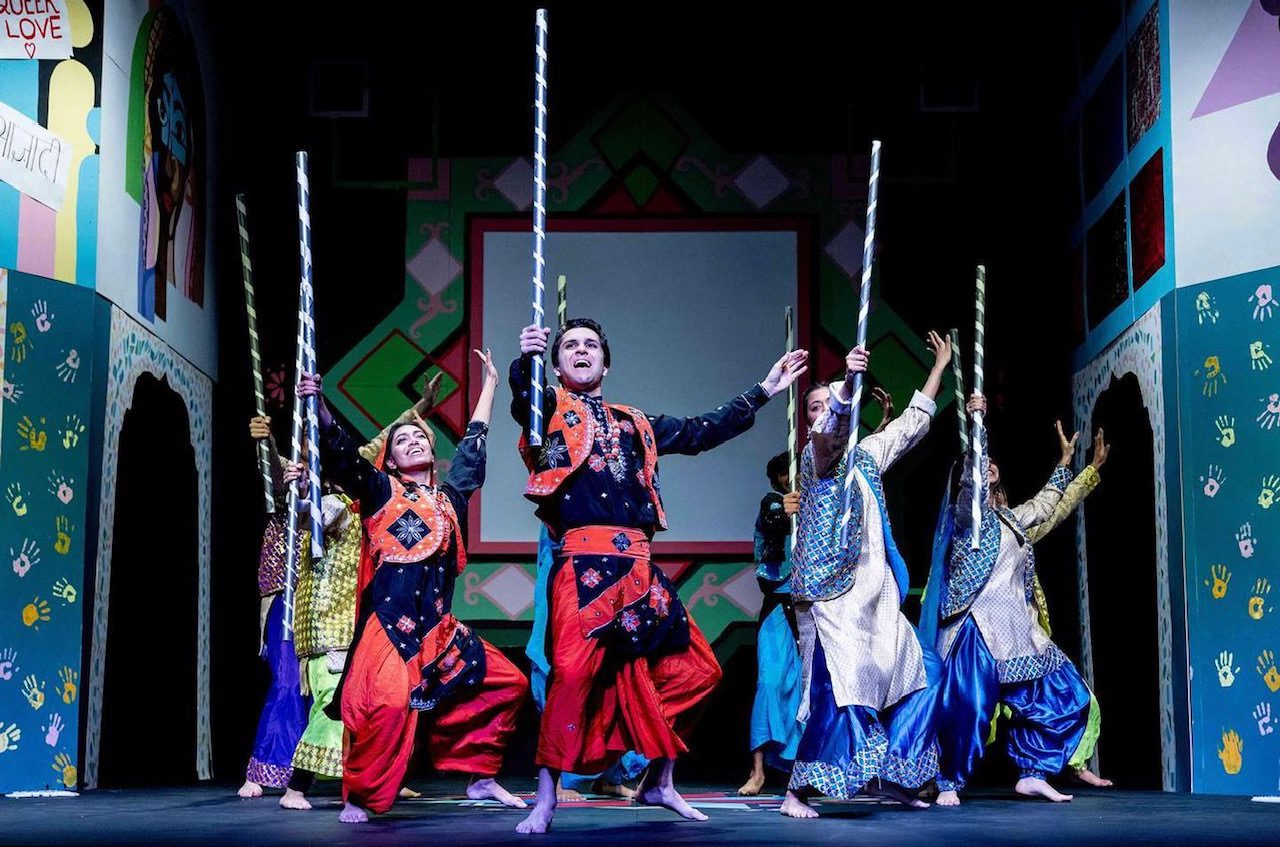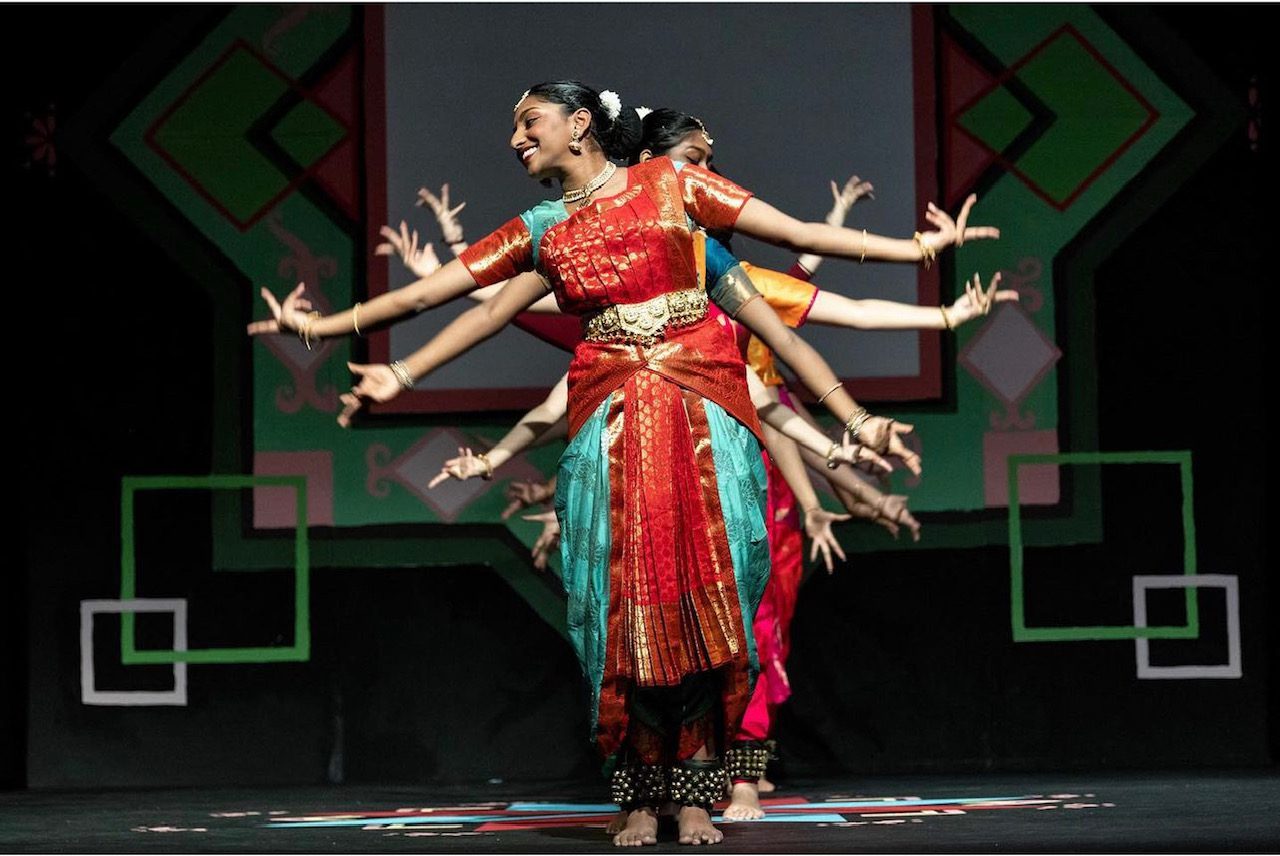 Mittal Institute: How many actors did you have, and what types of performances did they showcase?
Harini Kannan: Ghungroo showcases dance, music, skit, and spoken word, as well as visual arts in our set. We had about 400 performers. Dance is our most popular performance style, and many Harvard undergraduates join Ghungroo dance because it is open to people of all identities and skill levels! Our dance categories are based off of different South Asian/South Asian Diaspora dance and music styles. This year each dance was tied to a subtheme that explored a different "facet" of South Asian Identity, from Punjabi Dance and "Resistance" to Diasporic Fusion and "Longing."
Beyond dance, our music acts this year were proposed by the people leading them! We had a wide range of styles and medleys with songs of multiple languages and incorporating various instruments. Spoken word is an open-ended outlet for performers to present existing poetry or original pieces in any language. Finally, the skit this year was a humorous and witty historical fiction story based off a Sri Lankan colonial independence story!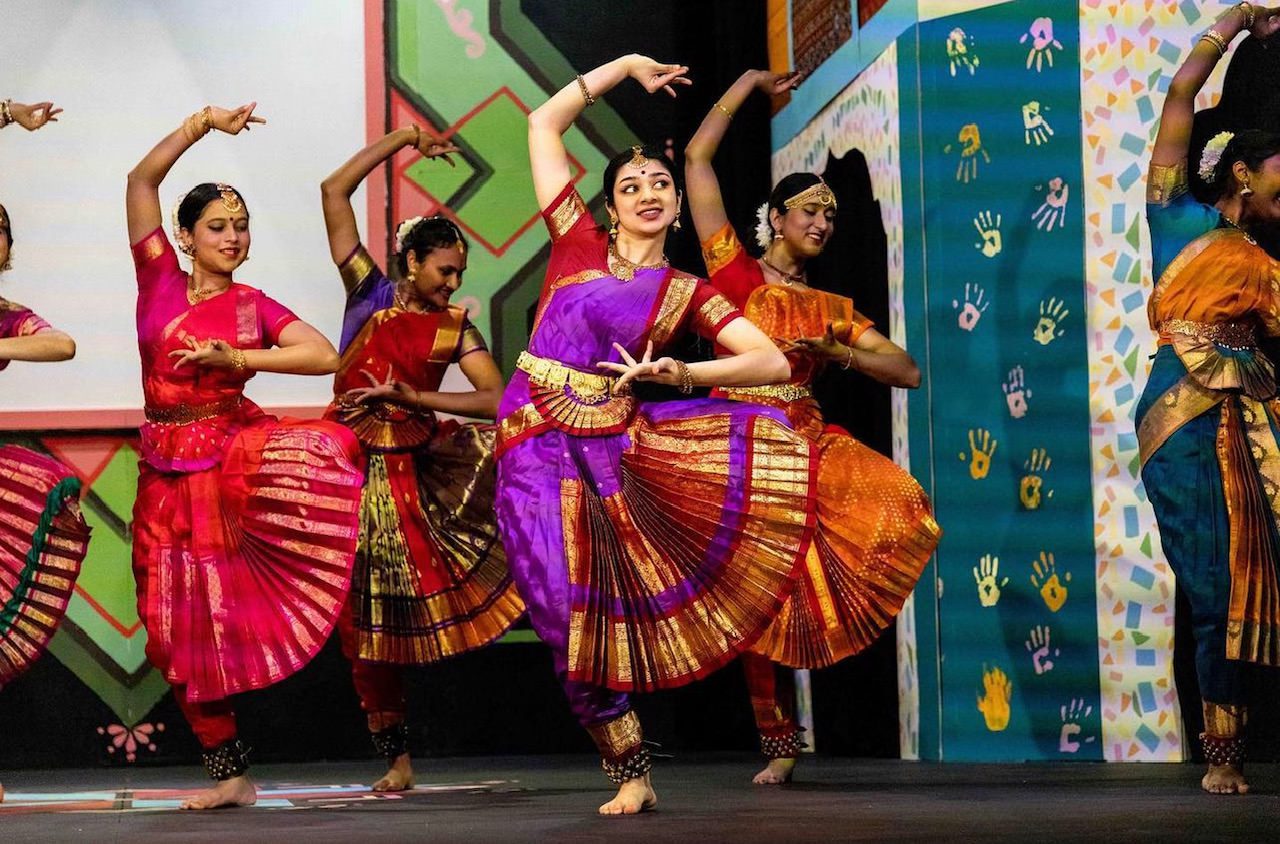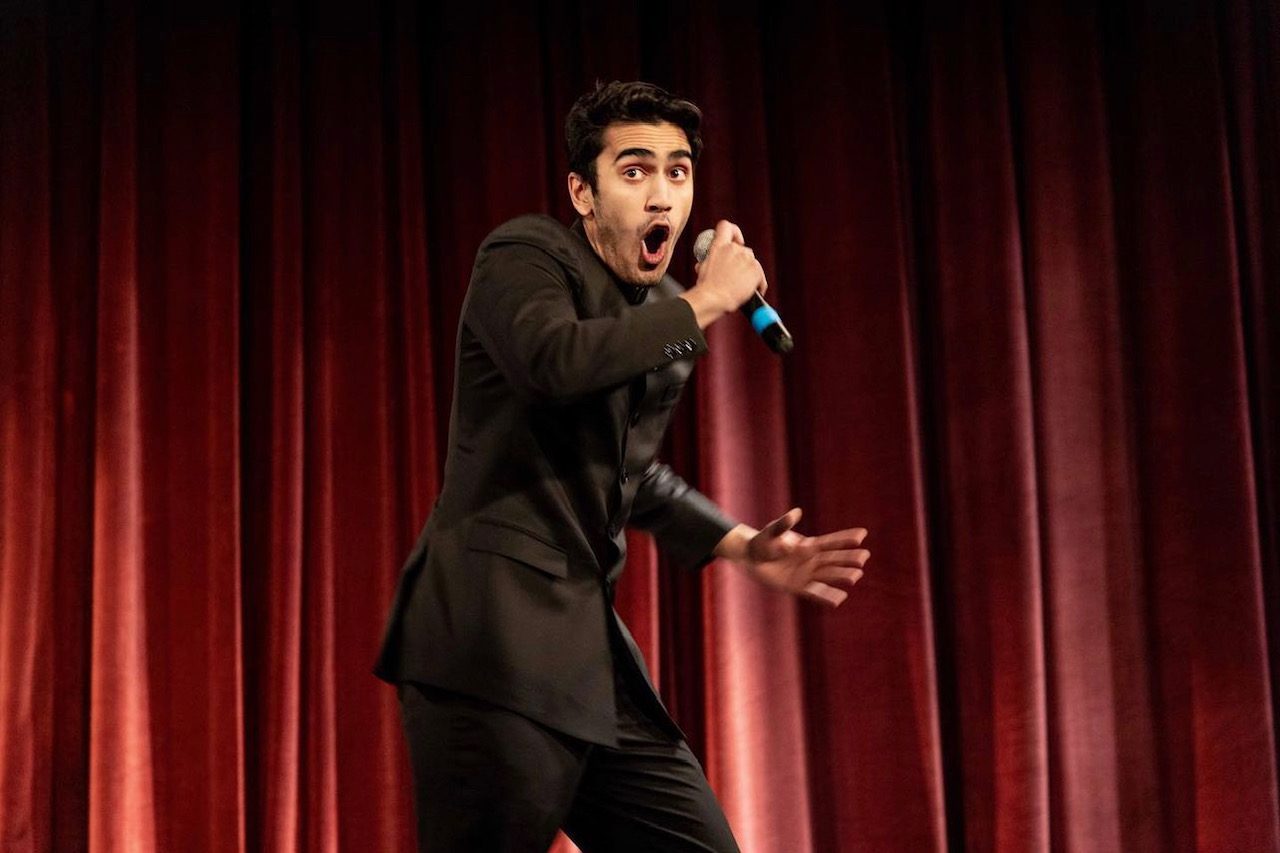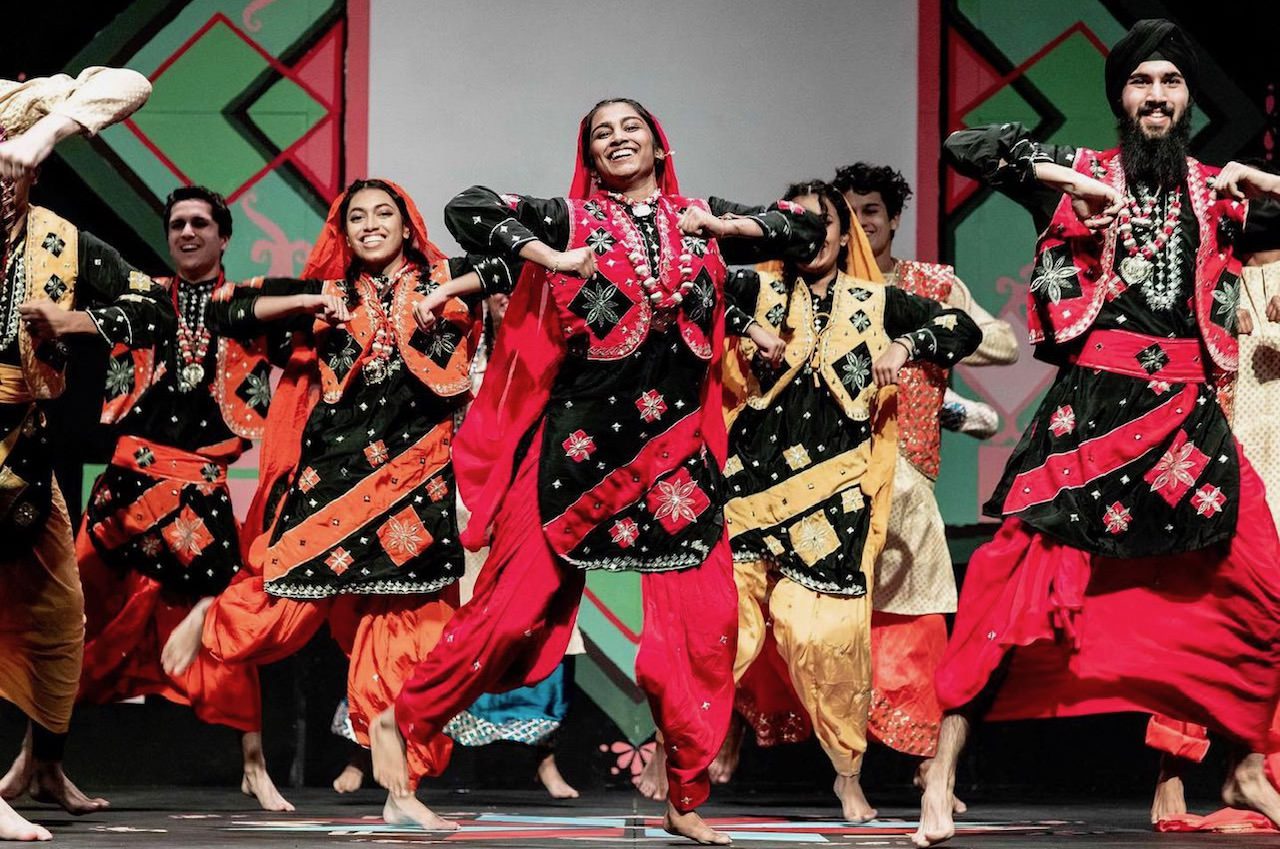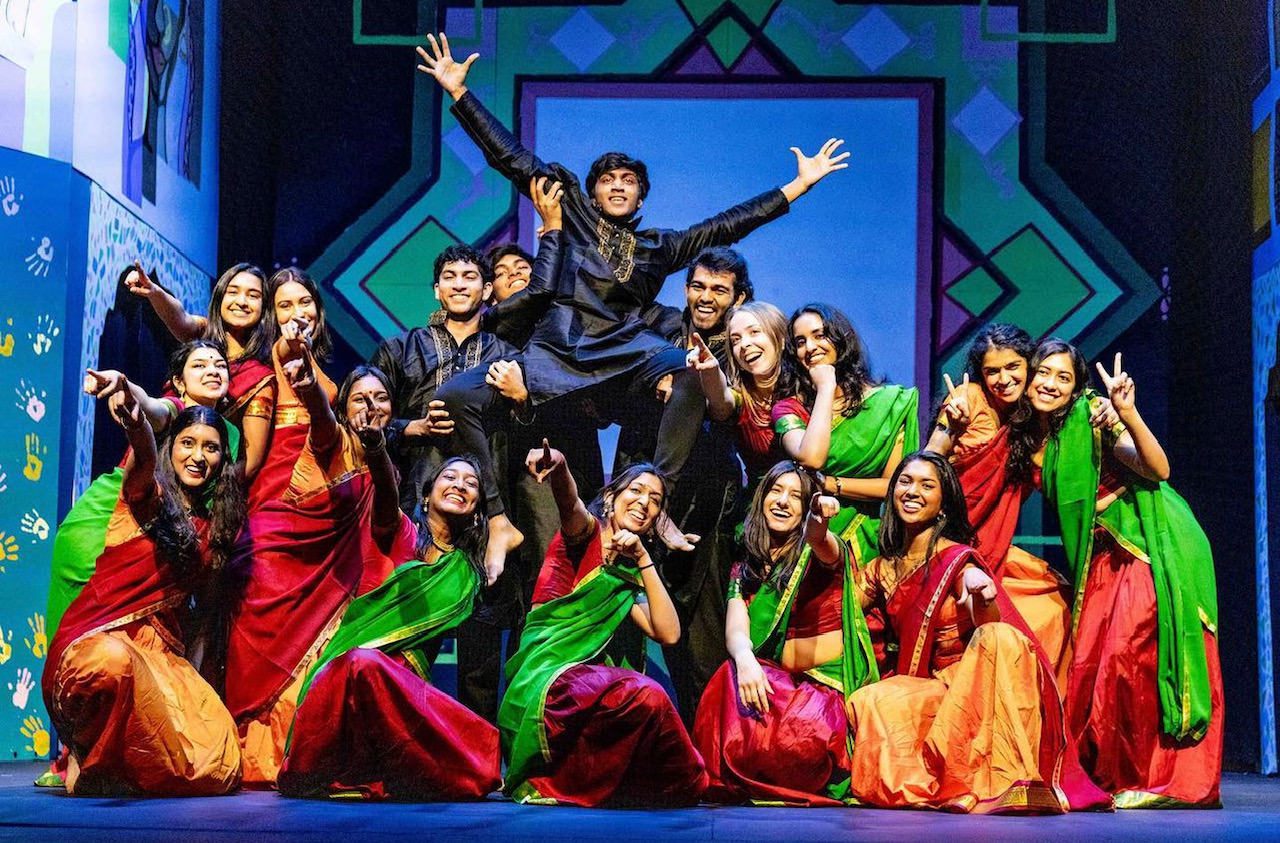 Mittal Institute: What was the most challenging part of planning Ghungroo, and what was the most rewarding?
Harini Kannan: Leading up to the show, one of the most difficult things was creating the set. We were on a tight timeline, and our set designs were beautiful, but to trace, paint, assemble and install every panel would take a long time! We were not sure if we could put everything together in time for our tech rehearsal. One night, a night that we needed to finish the set's back projector wall, several members of Harvard Nepali Students Association came in to volunteer to help. Together, with paintbrushes in hand, we finished the panel in a fraction of the time! From then on, Ghungroo community members continued to show up, and we were able to put up our beautiful designs just how the set designers envisioned.
While challenging moments came up throughout, they were easier to face with a community that cares! Once the shows started happening starting March 2nd, it felt so rewarding. Walking into the theater an hour before the curtain opens, seeing people getting ready, practicing, and preparing backstage created this electric energy of students excited to bring their hard work to the stage. Truly, it felt amazing not just to see the vision we had in the summer come to fruition, but the fact that everyone in the show had put in so much time and effort and felt ownership in Ghungroo. The buzz around campus during the show time was amazing too, with performers wearing their Ghungroo merch around campus and audience members eager to see the show. Everyone gave it their all each night, and we could not be more proud of how the show turned out!
Mittal Institute: What was a stand-out moment for you?
Shraddha Joshi: Saturday night is the last of four Ghungroo shows, and it really feels like the culmination of what is nearly a year of preparation. The excitement backstage was palpable as dancers rehearsed last-minute before getting on stage, and skit actors worked in special jokes into the script for the final show. The energy on stage felt unmatched as people put in their all, and it was really one of those moments where you could see the hard work and investment of every single member of the Ghungroo community– nearly 400 people– who had come together to make the show a reality. For the three of us as directors, it was particularly special as we had friends and family in the audience, so we were able to share something that meant so much to us with people outside of the community.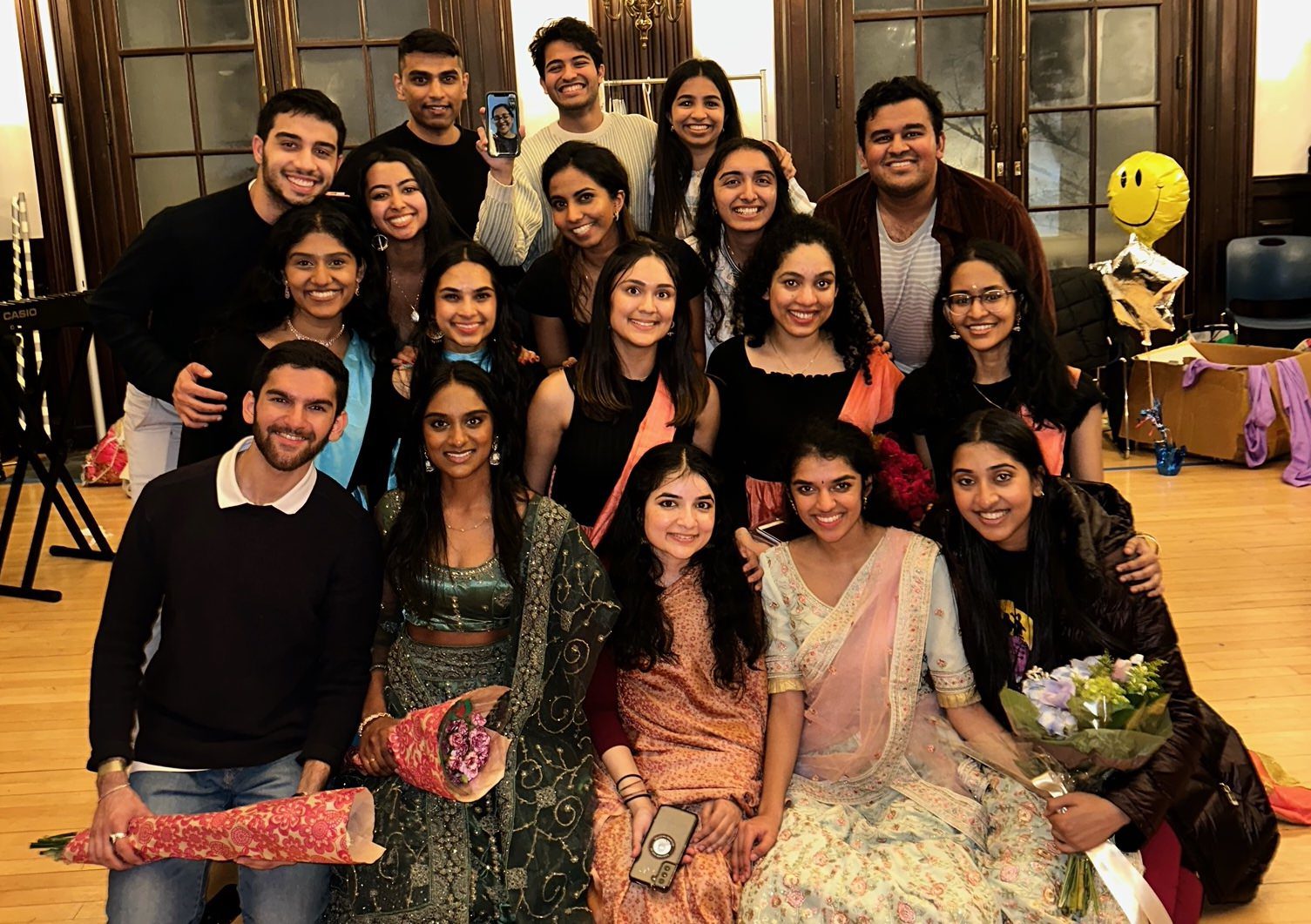 Four generations of Ghungroo directors and producers.