From Climate Change to 75 Years of Azadi, We've Curated 10 Not-to-be-Missed Events from the Last Year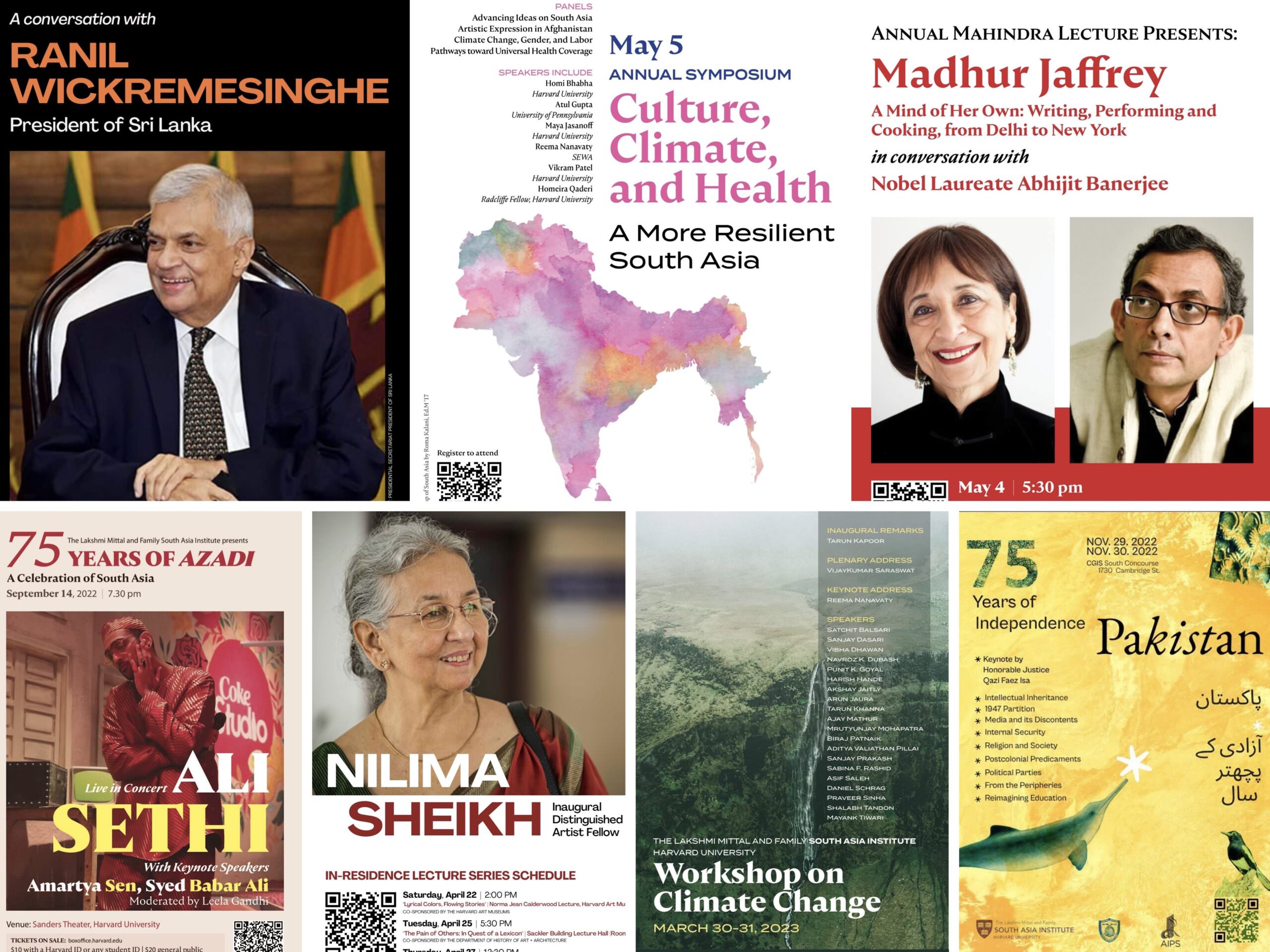 With Commencement week upon us and students heading off for the summer, we're taking a moment to reflect on this incredible year at the Mittal Institute. As Harvard's hub for South Asia, we hosted renowned experts, practitioners, policy makers and more for virtual and in-person events in our Cambridge space, our New Delhi office, and in other corners of the globe. Our event topics were wide-ranging: a workshop on climate change migration and adaptation in South Asia; a celebration of India and Pakistan at 75; a conversation with Sri Lanka's president; a launch of a new series on the state of architecture in South Asia; and more. With 100+ events, the Mittal Institute team has curated a selection below, but check out our YouTube page for a full playlist from the year.
TOP 10 EVENT VIDEOS OF THE 2022-2023 ACADEMIC YEAR
Annual Cambridge Symposium: Culture, Climate, and Health – A More Resilient South Asia
Four compelling sessions capped off an extraordinary year with discussions on arts in Afghanistan, the poor and climate change, new scholarship on the region and universal health coverage in India.
75 Years of Azadi: An evening with Syed Babar Ali and Amartya Sen
A most memorable discussion between two giants of South Asian civil society, looking back at India and Pakistan on the occasion of 75 years of independence.
Nilima Sheikh Seminar: "Of Home, Neighborhood, Love and Labor"
The Mittal Institute's inaugural Distinguished Artist Fellow presented a moving reflection on her work.
Madhur Jaffrey, Annual Harish C. Mahindra Lecture, in conversation with Prof. Abhijit Banerjee
In a year of incredible conversations, this one was one of our most enjoyable. Don't miss the this legendary South Asian food expert and actress.
Mittal Institute Workshop on Climate Change
This year, the Mittal Institute launched a new focus on one of the world's most pressing issues — and one for which South Asia is "ground zero." The first in a series of events kicked off in New Delhi with a two-day workshop.
Pakistan at 75: Ian Talbot on Climate Change
The Mittal Institute hosted a two-day conference on Pakistan during the fall semester with both young scholars and notable experts, including Ian Talbot, who is also a Mittal Institute Research Affiliate.
Emergent Practices in South Asia Series
This popular series, run by GSD Prof. Rahul Mehrotra, invited young architects from across South Asia to join Saturday virtual sessions to discuss their practices and provide a "pulse" on architecture in the region today.
A Conversation with Ranil Wickremesinghe, President of Sri Lanka
In a Mittal Institute first, the President of Sri Lanka joined the Harvard community virtually in a thoughtful discussion and exchange with students and community members on Sri Lanka past, present, and, importantly, the future.
South Asian Art Through Nature Narratives: Spring Visiting Artist Fellowship Exhibit Launch
Each semester, the Mittal Institute hosts two Visiting Artist Fellows for 8-week research residencies on the Harvard campus. In this session, artists Manjot Kaur and Dhara Mehrotra present how their work connects to, and is influenced by, nature.
AI for Social Impact
This fascinating series, led by Prof. Milind Tambe, explored the myriad ways AI is being used for good in South Asia.
Bonus! Read this article from one of the year's most memorable events featuring hit Pakistani singer and Harvard alum, Ali Sethi, with a link to video clips from the evening's performance.