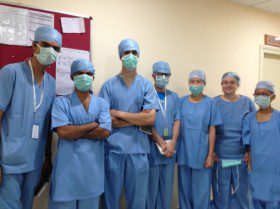 With the help of SAI, The Medical Innovation for Low-Resource Global Markets program has become a successful program for both Harvard students and the South Asia region. Conor Walsh, Assistant Professor of Mechanical and Biomedical Engineering, helped start the project-oriented, multidisciplinary initiative in 2012. The program provides students with the opportunity to spend a summer in India, and collaborate with local students and healthcare workers to address clinical needs by creating low-cost medical technology. The core philosophy of the program is that if students, from both science and social sciences, want to understand how to innovate in a low-resource setting, they must spend time on the ground in the region, interacting with people involved. This allows them to understand the social, economic, and technological context in which innovation can take place.
The program began in summer of 2012 with an Omidyar Grant from SAI. The team traveled to Bangalore, where they worked in clinics and hospitals to understand the problems being faced in the region. The team identified a problem related to cataract surgery: the tools that were being used were very rudimentary and difficult to use. The Harvard team identified the need for a low-cost tool that can cut capsules during surgery, and a SEAS student was able to develop a tool further to assist with this problem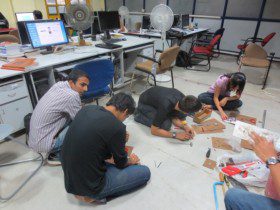 Based on the success of the first program, 5 more Harvard students from different disciplines went to Banagalore in 2013. This program was also made possible through the support of the President's Innovation Fund for International Experiences. The students were based at the Indian Institute of Science (IISc) with Professor B.  Gurumoorthy. They also collaborated with other engineering students from Centre for Product Design and Manufacturing. The students spent four weeks visiting hospitals and health centers throughout the Karnataka region to observe procedures and interview clinicians, eventually focusing on problems faced by staff at rural clinics. They spent six weeks designing a prototype low-cost manual suction device to be used in the clinics and developed further by the IISc.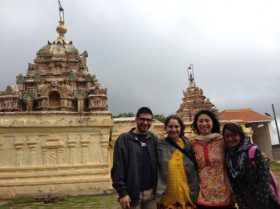 On most weekends the students were able to travel outside of Bangalore to sites of cultural and historical significance. These trips included visits to UNESCO World Heritage Sites such as the monuments at Hampi and the Taj Mahal, cities including Mumbai and New Delhi, and the Kerala region. The students participated in an immersion program organized by SAI. This presented the opportunity to meet other Harvard students working in India, and learn about other initiatives to tackle social, economic and health issues in the region.
Overall, the success of the last two summer programs has begun the process of bringing together students, faculty, innovators, and clinicians in the US and India. Because of Harvard's global ties and diverse schools, and focus on innovation, the program is able to benefit not only Harvard students and faculty but patients in the region as well.