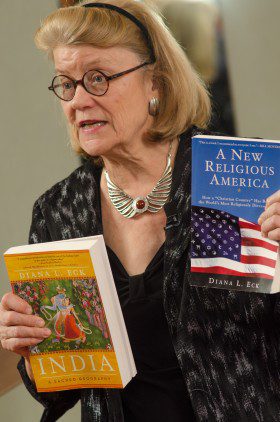 On Thursday, November 14th, SAI traveled to New York City for the second annual SAI in New York event. Fifty faculty, alumni, and friends of Harvard gathered at the home of Chandni and Mukesh Prasad for a conversation with Diana Eck, Professor of Comparative Religion and Indian Studies at Harvard University chaired by Dr. Mukesh Prasad HC '93.
Professor Eck noted that the topic of the night's presentation 'Sacred Geographies: India and the US' was one that she has rarely spoken about together. Rather, she often spoke about her work on pluralism in the United States separately from her many years of studying religion and pilgrimages in India. Her presentation, accompanied by beautiful photographs, touched upon her new book India: A Sacred Geography, which is a culmination of more than a decade's work, as well as her previous books such as Banaras: City of Light.
Eck also spoke about her work on the Kumbh Mela, and the multidisciplinary project undertaken by SAI. She noted that her interest in India began when she was a student at Smith College in western Massachusetts. In discussing her work in the United States, she shared the religious dimensions of America's new immigration; the growth of Hindu, Buddhist, Sikh, Jain, and Zoroastrian communities in the US and how these communities congregate in temples constructed in their traditional architecture, whether it is in the midst of a farm land in Ohio, a suburb of Massachusetts or the center on New York.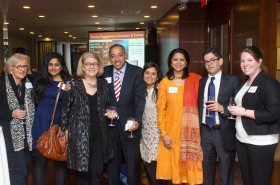 Following her presentation, Dr. Prasad moderated a lively discussion with the audience. One audience member, sitting eagerly in the front row, noted that it was an honor to interact with someone who she found herself referencing often in academic papers.
The Prasad family are sponsors of the SAI Prasad Fellowship, which funds Harvard Undergraduates and graduates to participate each year in internships and hands-on research in South Asia.
Watch a video of the event here.
See gallery below for more photos of the event.