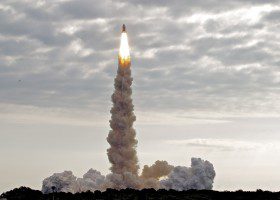 As we wrap up another semester and enter summer, here is a look back at SAI's most-viewed news articles from last semester:

1. Spring 2015 South Asia courses at Harvard
A list of the many courses Harvard offered in the spring 2015 semester related to South Asia, on topics including painting in India, religious violence, the informal sector in urban India, Buddhist ethics, religio-political movements in South Asia, and Islamic mysticism.
2. SAI welcomes new members to its Advisory Council
SAI announced that we have welcomed new members to the distinguished group who support our efforts to advance teaching and research on global issues related to South Asia.
 3. The Future of India's Space Mission: Mars and Beyond
Jaganath Sankaran, a SAI seminar speaker and research associate at the National Security Education Center at Los Alamos National Laboratories, discusses India's succes in reaching Mars and the future of its space program.
4. Lessons from and for Nepal
A recap of the panel discussion in May in which faculty from Harvard, MIT, Tufts, and Brown shared lessons and recommendations on a wide variety of topics related to Nepal's recovery.
5. Exploring identity through South Asian poetry
A recap of the Nineteenth India Poetry Reading session at Harvard, which featured poetry in a variety of South Asian languages on the them of 'Identity.'
6. Silencing India's Daughter
A recap of the screening and panel discussion hosted by SAI about the controversial documentary.
7. Introducing Indian literature to a new generation
An introduction to the Murty Classical Library of India, which will publish Indian classics translated into English.
8. Addressing gender norms through education
A recap of SAI's workshop in Delhi, which aimed to bring together a group of partners representing government, researchers, non-government organizations, and academics to discuss the role of education for gender and sexual health.
9. Kashmir's women in wait
An interview with filmmaker Nilosree Biswas, whose film depicts the extraordinary journey of Kashmiri women experiencing loss, separation, pain, anger, helplessness, faith, grit and determination amidst societal tragedies and circumstances.
10. The City and South Asia
The release of the SAI's publication, which looks urban centers in South Asia with an interdisciplinary lens.