This is part of a series in which we share reports from Harvard students who have traveled to South Asia with support from a SAI grant.
By Priyasha Saksena, SJD Candidate, Harvard Law School 
In my doctoral dissertation, I am interested in unpacking the relationship between international law and empire. The existence of empires in a world of international law has always been a bit of a puzzle, since international law is supposed to be based on ideas of equality, sovereignty and justice. Some scholars argue that the existence of empires was an aberration in an otherwise equal world, an aberration corrected by the process of decolonization. Others argue that empires were central to the creation of modern international law, and particularly the concept of sovereignty, which is, therefore, encoded with ideas of civilizational difference. In my dissertation, I examine debates around the legal status of the princely states of colonial South Asia (entities that were not under British rule, but not wholly independent either) to suggest that the idea of sovereignty was a site of social and political struggle between the British and the South Asians. To support this claim, I focus on jurisdictional disputes between the princely states and the British empire to trace arguments made by British and South Asian lawyers, civil servants, administrators and intellectuals on ideas of sovereignty.
Thanks to the generous support of the South Asia Institute, I spent the summer archive hopping in India, gathering a range of material on a variety of issues. In 2015-16, I had spent some time conducting archival research in the Asian and African Studies collections at the British Library in London (which house the India Office Records), and had found material on British official arguments and responses in the sovereignty debates. This summer, I planned to back up my prior research with material from Indian archives to supplement my analysis on the arguments made by South Asians, by looking at petitions and letters sent by Indian princes and their officials, internal documents of the Chamber of Princes, and private papers of a number of influential civil servants who served in the princely states.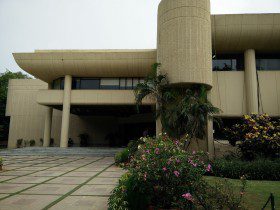 In New Delhi, I spent time both at the National Archives of India and the Nehru Memorial Museum and Library. At the National Archives, I focused on material relating to three main issues – jurisdiction over European British subjects in the princely states, submissions and opinions on the Butler Committee (that had been set up to opine on the legal status of the princely states), and submissions and opinions on the proposed federation between British India and the princely states (a venture that ultimately failed to come to fruition). I found extensive notes prepared and submitted by various princely states (including Patiala, Bhopal, Mysore, Travancore and Baroda) on all three issues. At Nehru Memorial, I focused on the private papers of Sir Tej Bahadur Sapru (a British Indian lawyer who frequently advised a number of the princely states) and Sir Mirza Ismail (the diwan of Mysore and Hyderabad). However, my most interesting find was a collection titled "Federal Papers," a set of two volumes that contained documents intended for private circulation among the members of the Chamber of Princes. They included a number of legal opinions and reports of various sub-committees set up by the Chamber of Princes on the proposed federation, and provide a valuable insight into the manner in which the princes and their advisers conceptualized sovereignty and their arguments on the legal status of the princely states.
I also spent time at the regional office of the National Archives of India in Bhopal. Although much of their material relates to the erstwhile Bhopal State, they also have a section on the Chamber of Princes on account of the chancellorship of the erstwhile Nawab of Bhopal. The Bhopal office is not a heavily visited one; as the Assistant Director of the Archives told me, they have a significant amount of untapped information in their records. Their holdings did not disappoint; I found them to be a rich source of memos and opinions (mainly for private and internal circulation) by advisers to the princely states on their legal and constitutional status, particularly with reference to the position of the princely states in relation to federation. Archival work can sometimes be dispiriting since it involves a lot of time spent digging around, often with little to show for results. But, as I saw time and again this summer, nothing can quite match the thrill of stumbling across a century-old document filled with often-juicy details of a disputed claim of a princely state, and the numerous legal arguments deployed by princely state advisers in support of their clients. Much of the material in my dissertation is based on such findings, and I am grateful to the South Asia Institute for supporting my work.