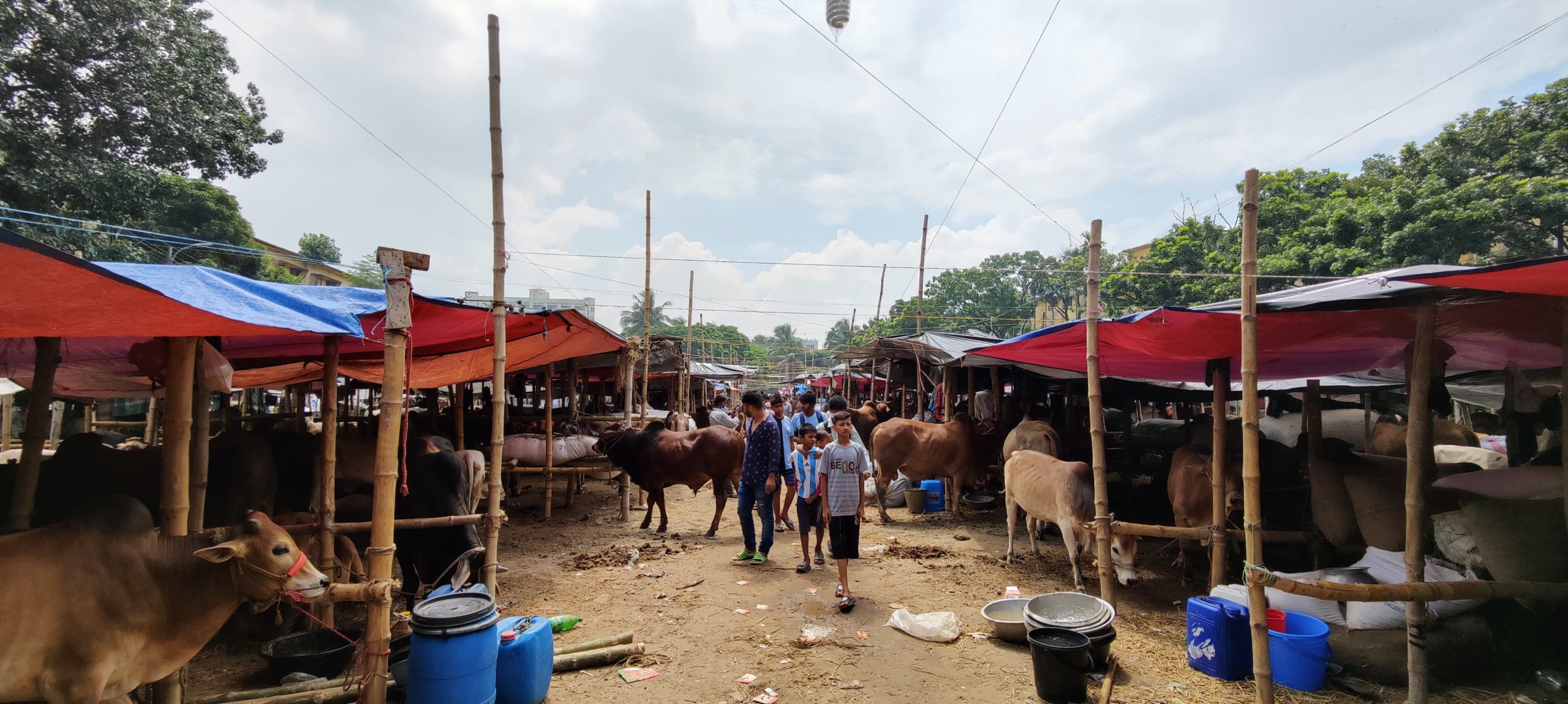 Cattle markets in Bangladesh | Courtesy of Nusrat Jahan Mim.
Nusrat Jahan Mim, a Mittal Institute Graduate Student Associate, is a Doctor of Design candidate at Harvard's Graduate School of Design. Her research focuses on post-colonial, post-secular urban designs and human-computer interaction. By examining existing systems, she explores how different spatial and technical designs challenge or propagate social exclusions in the Global South. She is a Harvard Mellon Urban Initiative Fellow for the academic year 2022-23. Prior to Harvard, she won the prestigious AIA Henry Adams Medal from Syracuse School of Architecture for achieving the highest academic rank in M.Arch. The Mittal Institute also profiled her work on makeshift cattle markets in Dhaka in a September 2021 newsletter. We spoke with Nusrat to get an update on her work and new GSA role.
Mittal Institute: Welcome, Nusrat! Much of your work focuses on marginalized communities, and a large body of your research is centered on Bangladesh. Can you talk about these foci, and why they are important to you?
Nusrat Jahan Mim: Thank you very much for having me here. This is actually a great question. My encounter with marginalization took place very early in my life, and I observed that from an intersectional vantage point of subjugation: as a "Bangladeshi woman" – a subject of domination in a patriarchal society, in a country that has a long and complex history of colonization. I have lived my entire childhood and early adulthood in one of the thousands of dingy urban apartments in Dhaka, the capital of Bangladesh. I have experienced our lives being controlled, shaped, and exploited simultaneously by the capitalist means of development and the patriarchal oppression of society.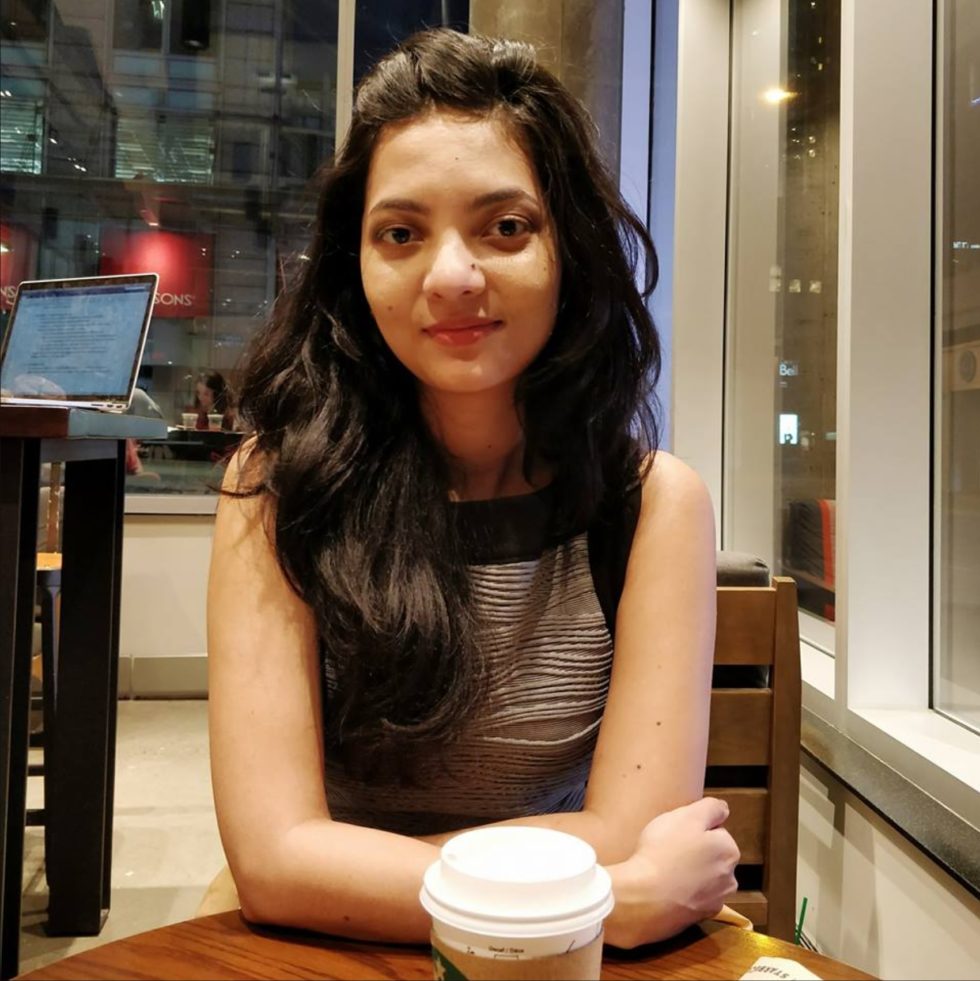 The designed world that surrounded me—ranging from my family's small apartment to the applications installed in my mobile phone—suffocated my life by imposing rules, standards, and surveillance that "othered" me from the "center." Therefore, from my final undergraduate architectural thesis project until now, I have focused on various forms of marginalization through my research and design, mostly focused on various Bangladeshi communities.
For instance, I have worked with slum dwellers, who were dislocated forcefully to accommodate urban development/city beautification projects. I have worked with women entrepreneurs who struggle daily to run their online businesses on social media but experience various spatio-political barriers. My recent collaborative work focuses on the marginalization of faith-based communities in the online world. I believe this focus on marginalized communities can benefit academia and practice in two ways. First, mainstream research and practice often fail to capture the nuanced social and spatial tensions around subjugated lives. Hence, the design outcomes (for instance, from habitation to mobile phone applications) lack sensitivities toward such communities. More voices from marginalized communities can essentially enrich design research and practices by portraying actual scenarios, not the "assumed" ones. Second, more scholars from marginalized communities can offer the design world alternative perspectives, which often get uneven support from established disciplinary domains in the present.
More voices from marginalized communities can essentially enrich design research and practices by portraying actual scenarios, not the "assumed" ones. And more scholars from marginalized communities can offer the design world alternative perspectives, which often get uneven support from established disciplinary domains in the present.
Mittal Institute: Your design ideas range from a carbon capture "machine" in Africa's Savannah, to cyclone-proof housing for low-income communities on Kutubdia Island in Bangladesh, to portable dwellings for the poor in Dhaka. Which design or project are you most proud of? And what research projects are you working on now?
Nusrat Jahan Mim: I think my Masters Thesis Project on Subaltern Virtuality: Virtual Hegemony and Domestic Architecture in Postcolonial World is my favorite design project, which received the Citation Award at Syracuse Architecture. This thesis explored, questioned, and re-imagined a "virtual subaltern scenario" in the form of architectural experimentation. As the context, Dhaka city's mushroomed middle-income apartment housing was chosen for its history of postcolonial struggle, existing resource constraints, and dense active participation in virtual social media. To project a certain "standard" image of their living space in the virtual/online world, apartment dwellers are changing the way they traditionally occupy their homes. Instead of having a home (single/multifamily) as a unified architectural entity, now there is a "front stage," where documentation for social media takes place and a backstage – the "actual" home. Based on four different scenarios/cases from the context, this thesis developed a series of speculative visual representations of apartment spaces/complexes, revealing conflicts between the subalterns' cultural identity and the dichotomy of front and backstage. Rather than trying to solve such conflict as an architectural problem, the speculations offered radical alternatives to provoke responses from the subalterns and to raise critical thoughts around such virtual/online domination. Later, I elaborated this topic and published an academic collaborative paper, "Others' Images", which received Best Paper Honorable Mentioned Award at ACMSIGCHI 2020.  
My thesis at the Harvard GSD questions the western secular theoretical perspectives that are often used to label the non-secular cities of South Asia as a product of failed modernity. Such a parochial notion for conceptualizing urban modernity in South Asia fails to grasp the totality of the complex evolution, development, and operations of a city like Dhaka, where traditional religious practices shape the city's socio-economic and political trajectories. This conceptual failure often leads us to the marginalization of cultural pluralities and alternative rationalities developed in South Asian contexts and limits the potential to generate an effective stream of subaltern knowledge in different branches of Urban Studies. Based on the empirical case studies around an annual Muslim religious festival of Eid ul Adha and makeshift cattle markets in urban Bangladesh, I intend to address this issue. My thesis investigates how various non-secular urban properties converse with the two essential tools of urban modernist development during religious festivals and generate urban spatial narrative-based theoretical lenses: 
1. Infrastructure: How religious practices and festivities interact with the city's existing physical and digital infrastructures and locate "when is an infrastructure," which seldom receives attention in the urban infrastructure scholarship. 
2. Institutions: How religions, as a quasi-informal instrument, orchestrates between the institutional formalities of the state and informalities of the market forces at a temporal scale and accommodate temporal "exceptions" within institutional boundaries (regular orders and rules are suspended, and. new (albeit transient) orders and rules take their place).
Based on my ethnographic field world in Bangladesh, I have now started structuring my dissertation and writing chapters for it. 
Nusrat's Research Images: Cattle Markets in Dhaka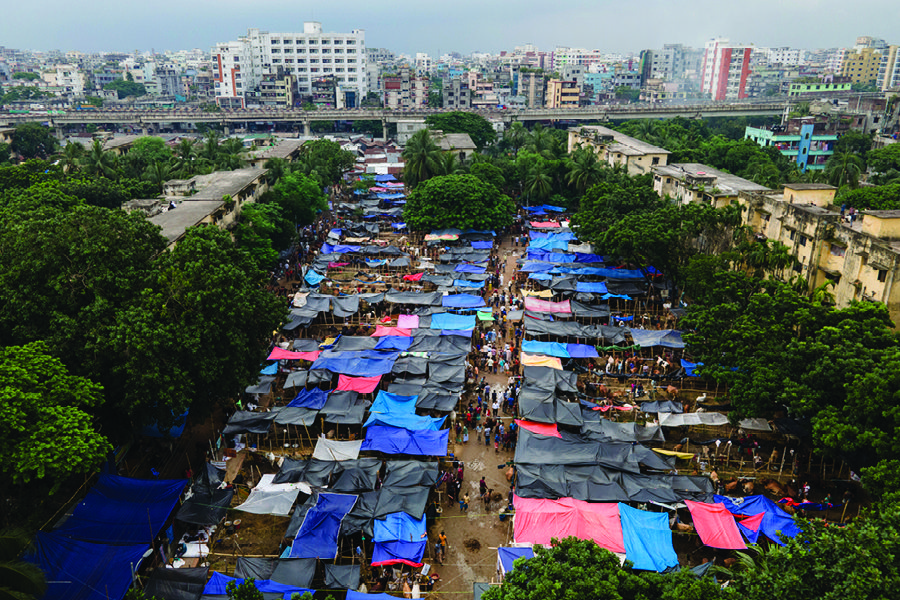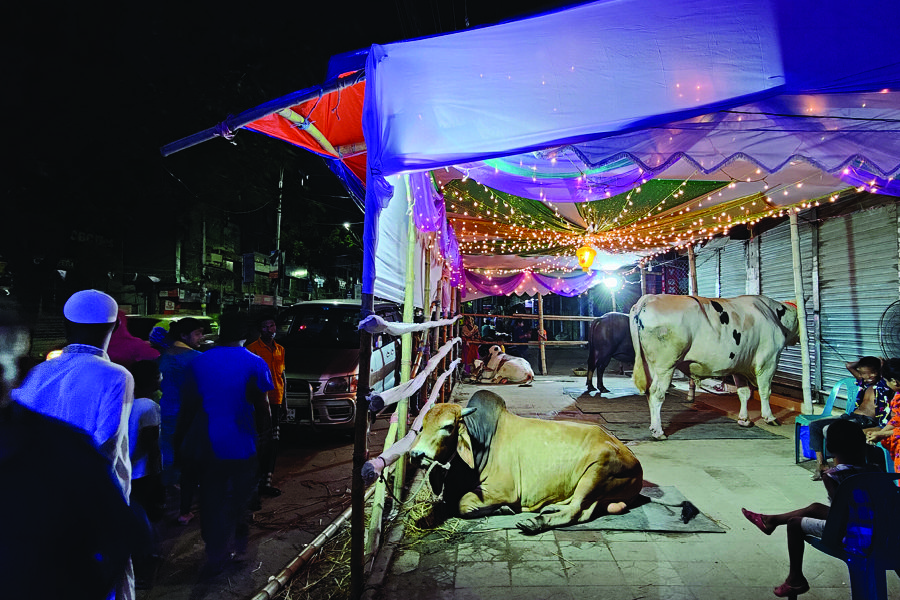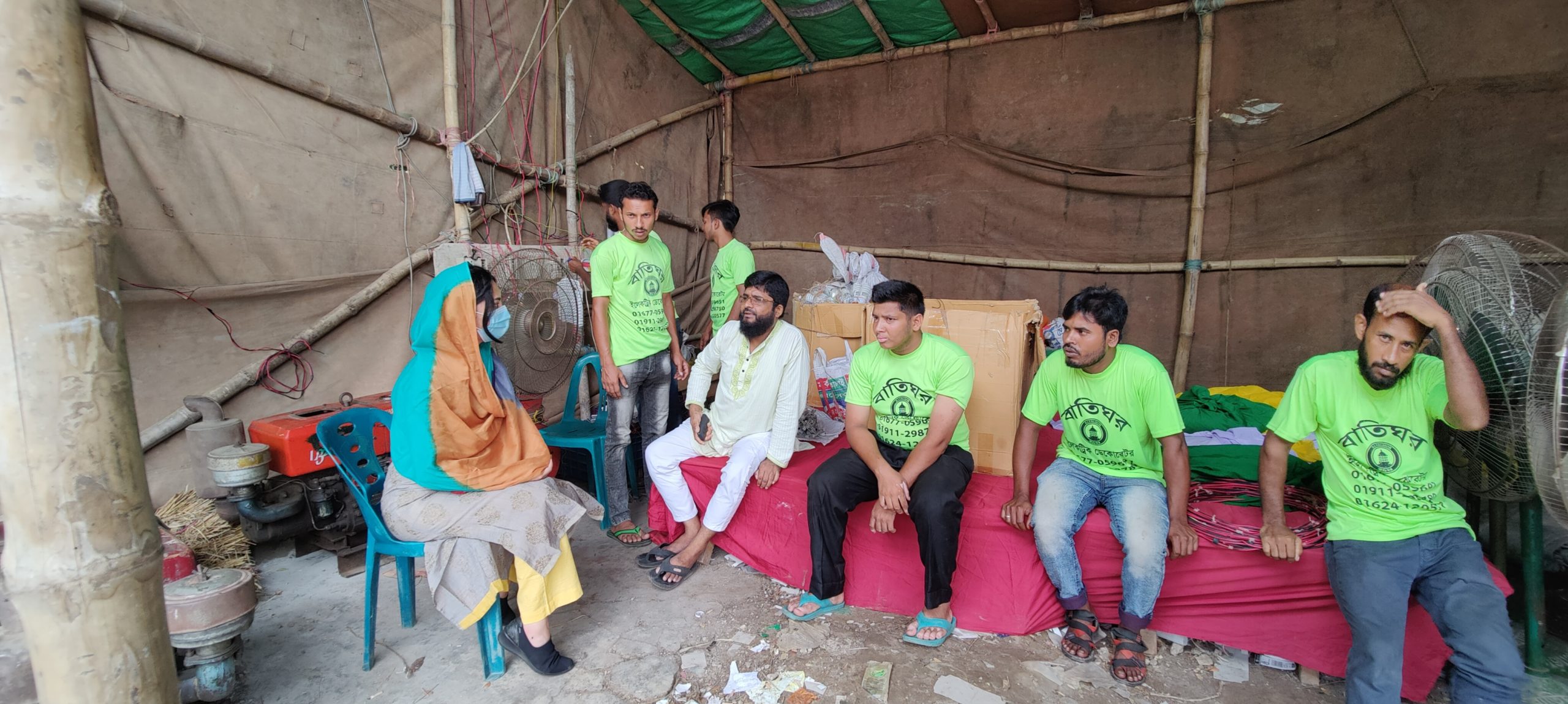 Mittal Institute: How do you hope your alignment with the Mittal Institute will impact your research?
Nusrat Jahan Mim: My ongoing research work at the Harvard GSD concentrates on the understanding of critical urban concerns relevant to South Asia and its conversations with the world – which aligns with the Mittal Institute's broader vision. During my GSA Fellowship year I look forward to presenting the findings from my fieldwork and its broader connections to the South Asian urban contexts and related disciplines at Faculty Cabinet meetings, MI symposiums, and monthly working group meetings. I believe that the valuable feedback from the Mittal Institute's interdisciplinary platform will strengthen my research work and future publications at LMSAI or other venues. By participating in LMSAI's diverse programs and novel initiatives, I am hoping to enhance and strengthen my academic network. I am also learning from the previous GSAs about their research work on South Asia, and their involvement with the LMSAI.
Mittal Institute: What are your long-term career goals, and what is next on the horizon for you?
Nusrat Jahan Mim: My long-term career goals involve being an academician and developing an interdisciplinary, collaborative design lab that will research various spatial design-related issues around marginalized groups living in South Asia or migrating from this region to the developed parts of the world.
Next on the horizon for me is completing my thesis dissertation writing. I am also looking forward to publishing chapters from my thesis work and my other ongoing collaborative works on various peer-reviewed venues.