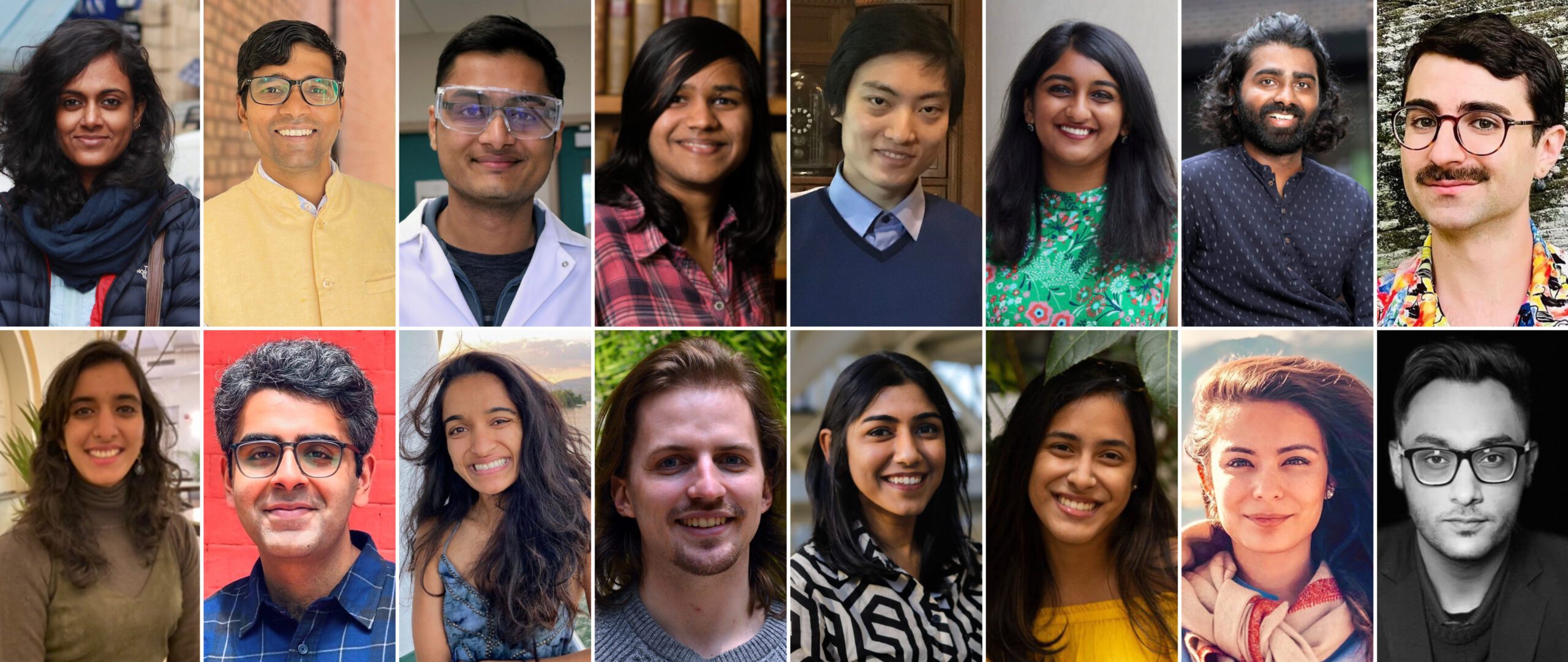 New fellows and GSAs, clockwise from top left: Anu Antony, Pradeep Choudhury, Sarthak Agarwal, Ronak Jain, Hansong Li, Vaishnavi Patil, Akhil Thomas, Tyler Richard, Pariroo Rattan, Kartik Srivastava, Gauri Jain, Hilton Simmet, Palak Gupta, Priya Sarma, Priyanka Sethy, Shaharyar Zia.
The Mittal Institute fosters South Asian scholarship by hosting Fellows and Graduate Student Associates. Fellows are scholars and practitioners who come to Harvard to utilize the university's resources to contribute to self-driven, independent research. Graduate Student Associates (GSAs) are graduate and Ph.D students who hail from across the different schools at Harvard, who conduct research focused on South Asia. This Academic Year 2023-24 we welcome 2 new Fellows and 14 returning and new GSAs.
New Fellows – Cambridge
Anu Antony is the Raghunathan Family Fellow. She is a researcher whose work focuses primarily on the themes of subjectivity, women's religious life and labour, everyday religiosity, and post-secular discourses in the context of Indian Christianity.
Pradeep Choudhury, the Jamnalal Kaniram Bajaj Trust Visiting Research Fellow, has been working as an Assistant Professor of Economics at Zakir Husain Centre for Educational Studies, School of Social Sciences, Jawaharlal Nehru University, India, since 2015. He works in the area of applied development economics, with a specific focus on education. Much of his work harnesses the empirical relationship between education and development using large household and institutional data sets in developing economies.
Returning Graduate Student Associates – Cambridge
Sarthak Agarwal is a second-year doctoral student of Population Health Sciences with a focus on Public Health Nutrition. His academic interests include food security and nutrition as well as the policies and laws governing them.
Ronak Jain is a Ph.D student in Economics at Harvard University. Her research interests lie in the intersection of economic development and behavioral economics. Her work seeks to understand how beliefs and preferences shape economic and psychological outcomes of individuals and communities, with a regional focus on South Asia.
Hansong Li is a political scientist and intellectual historian in the Government Department at Harvard University. His research explores the languages and practices of interstate justice in South Asia, in comparison to East Asian and European traditions. In particular, he studies Vedic and later Sanskrit sources of social thought, and how they are reimagined in modern political and economic debates over diplomacy and development.
Vaishnavi Patil is a doctoral candidate at Harvard University in the History of Art and Architecture department working on South and Southeast Asia. She is interested in studying female deities, especially mother goddesses in South Asia. Her work seeks to understand the networks of transmissions of ideas and imagery, the role of artists, patrons, and devotees in shaping religion, and the reciprocity and connectedness in the religions of South Asia, through the sacred feminine.
Akhil Thomas is a Ph.D student in the Committee on the Study of Religion at Harvard University. He is working on early modern imaginations of culture and religion in south India. His project involves Thomas Christian- Portuguese encounter in the seventeenth and eighteenth century and the use of Malayalam poetry that playfully engages Hindu and Christian themes.
Pariroo Rattan is a Ph.D student in Public Policy program and affiliated with Harvard Kennedy School's Program on Science, Technology and Society. Her doctoral work looks at how state-led efforts towards the digitization of the economy in India transforms economic subjectivity and citizenship, and explores the new regimes of value creation in a data economy.
Tyler M. Richard is a translator and scholar of South Asian literature. He is currently a Harvard University Ph.D candidate, where he explores how different communities—especially those in South Asia—have articulated and explored questions related to beauty, identity, language, and perception.
Kartik Srivastava is a Ph.D candidate at Harvard University's Kennedy School. His research focuses on development economics, labor economics, and political economy.
New Graduate Student Associates – Cambridge
Gauri Jain is a a second-year computer science Ph.D student working with Professor Milind Tabme on topics in AI in Public Health, specifically in maternal and child health in India. Before that Gauri worked as a software engineer at Meta for 2 years.
Hilton Simmet is a Ph.D candidate in Public Policy and a Research Associate with the Program on Science, Technology and Society at Harvard Kennedy School. His research centers on the relationship between political theory and public policy, with a particular focus on how research paradigms seeking to address inequality reflect underlying ideas of political order.
Palak Gupta is an architect from India, and a post-professional graduate student at Harvard Graduate School of Design. Since her undergraduate studies at the Mumbai University, she has been involved, both academically and professionally in pedagogical and research conversations involving the communities vulnerable to the impacts of climate change and urbanization.
Priya Sarma is a M.S. candidate in the Harvard T.H. Chan School of Public Health, where she works on health governance reform.
Priyanka Sethy is a Ph.D student in Government studying the political engagement of South Asian diasporas in the US and the UK. She is also interested in identity and social decline among immigrant groups.
Shaharyar Zia is Ph.D candidate in the Department of Near Eastern Languages and Civilizations at Harvard, who studies the histories and cultures of Muslim societies.