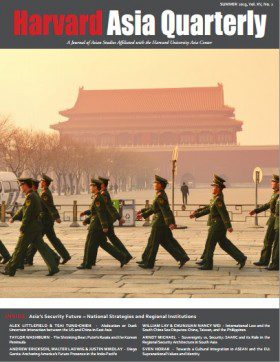 The new issue of Harvard Asia Quarterly on "Asia's Security Future – National Strategies and Regional Institutions" is now available for download. SAI Intern and HLS SJD Candidate, Erum Sattar is HAQ's Editor-in-Chief this year.
The link for download is here: http://ge.tt/1WJALvv/v/0.
The objective of the Harvard Asia Quarterly is to provide commentary and analysis by scholars of various backgrounds on issues affecting contemporary Asia. It aims to publish material that is interesting and accessible to an informed readership, while maintaining the highest scholarly standards.The next issue will focus on "Regional Economic Institutions for Cooperation, Integration, and Growth". The deadline for consideration for the Fall issue is Thursday, October 31, 2013. For more information, contact:editor@asiaquarterly.com.