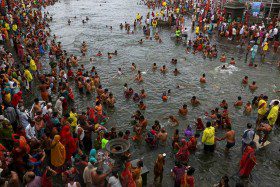 As we celebrate a new year, take a look back at SAI"s most-viewed content from the summer and fall semester.
1. In Memory of Shahab Ahmed
September 18, 2015
SAI was deeply saddened to share the news that Shahab Ahmed, Professor of Islamic Studies at Harvard, passed away.
2. Saving a culture, book by book
June 25, 2015
A profile of Maung Nyeu, Ed.D candidate at Harvard Graduate School of Education, who is using children's storybooks to help preserve a culture in Chittagong Hill Tracts, Bangladesh.
3. Fall course: Contemporary Developing Countries: Entrepreneurial Solutions to Intractable Social and Economic Problems
August 17, 2015
A preview of the course co-taught by SAI Director Tarun Khanna and several SAI faculty, which encourages students to think of innovative solutions to social problems.
4. Q+A with Ranjit Kandalgaonkar: Visualizing the city
October 29, 2015
An interview with the Ranjit, the inaugural artist in SAI's Visiting Artist program, who focuses primarily on unseen or ignored processes of urbanization.
5. Kumbh Mela book and exhibition launch in Delhi
A recap of the event, which launched the book in India with Harvard faculty and Shri Akhilesh Yadav, Honorable Chief Minister of Uttar Pradesh
6. Dec. 16-18: SAI and Aman Foundation to host conference on Mental Health in Karachi
December 3, 2015
A preview of the conference, which focused on examining best practices for mental health relief in disasters, both natural and manmade.
7. Alum Q+A: Using entrepreneurship to impact education in Pakistan
November 12, 2015
A profile of Imran Sarwar, who founded an education organization called Rabtt.
8. Mapping and urbanism: Q+A with Chitra Venkataramani
November 3, 2015
A profile of SAI's Fellow, whose research focuses on the emergence of a visual economy organized around the production and circulation of cartographic images.
9. The Jana Swasthya Project at the 2015 Kumbh Mela: Ushering in India's Mobile Health Revolution
September 10, 2015
SAI's project at the Kumbh Mela in Nashik and Trimbakeshwar uses a mobile app for real-time disease surveillance.
10. Meet our Graduate Student Associates
September 14, 2015
Every year, SAI supports Graduate Student Associates from across the different schools at Harvard whose research focuses on South Asia.